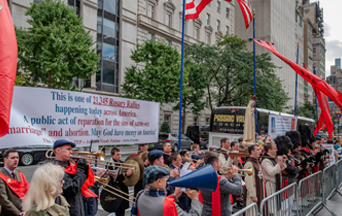 On October 13, 2018, the 101st anniversary of the Miracle of the Sun in Fatima, Portugal, 23,018 Public Square Rosary Rallies across the globe in 27 countries incessantly pleaded to heaven for the conversion of society and the urgent fulfillment of the prophecies of Our Lady of Fatima. Of those rallies, 21,145 took place in the United States.
This year's flagship rosary rally sponsored by the American TFP and it's America Needs Fatima campaign took place in front of the Metropolitan Museum of Art on Fifth Avenue in New York City.
Bagpipes and drums playing the Marian hymns Hail Holy Queen and Immaculate Mary provided by the TFP Holy Choirs of Angels Band rang through the streets calling attention to the impressive act of Catholic prayer in public.
"Because of the horrible blasphemy and sacrilege that was perpetrated in this museum, we felt we needed to make special reparation to Our Lady and hold the rosary rally right in front," commented Robert Ritchie, director of America Needs Fatima.
God Doesn't Forget
Infamously, the Metropolitan Museum of Art from May 7 to October 9  held an exhibition titled Heavenly Bodies: Fashion and the Catholic Imagination. Blasphemously, this exhibit combined the sacred with the profane. It mixed the sacred with the sensual, promiscuous and immoral.
"We wanted to show the Metropolitan Museum that we didn't forget. Above all, that God won't forget this horrendous blasphemy," Mr. Ritchie added.
"This is huge!"
 TFP volunteer Matthew Miller, present at the New York rally, exclaimed, "This is huge! I mean the fact that over 23,000 rosary rallies are taking place from the four corners of the earth to pray to the Mother of God is amazing."
Countries that participated in the 2018 Public Square Rosary Rallies were: Australia, Belgium, Botswana, Canada, Costa Rica, Cuba, Dominican Republic, Ecuador, Gabon, Germany, Guatemala, India, Ireland, Lesotho, Malawi, Mexico, Namibia, Panama, Philippines, Poland, South Africa, Spain, Uganda, United Kingdom, Venezuela and Zimbabwe.
"As a society, we've gotten into a serious mess. That's why we need Our Lady. She's the only one who can fix it," concluded Mr. Miller.
The increasing amount of Public Square Rosary Rallies shows a growing trend: People are seeing that human efforts are failing and that God and His Holy Mother are the only solution.