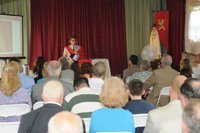 It was June 13 when two hundred plus America Needs Fatima members and friends joined by a single ideal and devotion to the Mother of God gathered in Hazleton, Pennsylvania for the now traditional yearly barbeque.
The program began with a beautiful traditional high Mass celebrated at the church of Our Lady of Graces with the accompaniment of the Our Lady Queen of Hearts choir. Participants then drove twenty minutes to the house of Mr. and Mrs. Joseph Ferraz where the rest of the event was to take place. After a half hour of casual conversation an insightful talk on the crucial importance of the devotion to the Mother of God was delivered by American TFP member, Byron Whitcraft. Mr. Whitcraft specially focused on what such a devotion means in our morally turbulent world and how we live in a world where more than ever, it is not enough to only pray, but it is also necessary to act.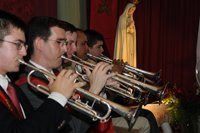 A very sumptuous barbeque followed and warm and good conversation was a pleasure to see and hear all around for the next hour while many children played in a very nearby field. The surprise of the day was when a fifteen passenger van pulled up full of young men with brass and percussion instruments including a bagpipe. The band presentation was a great hit adding a very special note to the afternoon.  Perhaps the most applauded piece played was the Spanish "El Gato Montes".
It was once said that the grace of God tends to bring people together while the demonic influence will invariably promote, discord, friction and conflicts among the children of God. At the America Needs Fatima yearly barbeque this became evident and to witness this one has only to come and see and experience the joy of being together for the love of Jesus and Mary.