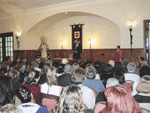 On the October 13 weekend, the American TFP gathered together over 200 members, supporters and friends of Fatima, for a series of meetings linked to the internal situation of the Church and the nation. Held at the TFP's headquarters in Spring Grove, Penn., the meetings were especially timely considering the significance of the date, the 85th anniversary of the final apparition of Our Lady to the three shepherd children at Fatima.
The context of the Fatima Message allowed the speakers to speak of topics ranging from the pervasive atheistic mentality that pervades American society to the ideal Catholic society based on upright spontaneity and organicity. Many first-time participants were introduced to the themes presented in the book, Revolution and Counter-Revolution as well as the life and history of its author, Prof. Plinio Corrêa de Oliveira.
Between talks, participants had time to converse and share their impressions. Before dinner, attendees participated in a long candlelight rosary procession with an exact replica of the famous and miraculous Pilgrim Virgin of Our Lady of Fatima.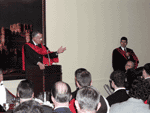 The high point of the event was solemn High Mass celebrated at St. Patrick's Church in York, Penn. and sung by the TFP Choir. The Mass, attended by 300 people, was celebrated in the Traditional Tridentine Rite. It ended with a moving rendition of the Papal Hymn with organ, trumpet and choir.
After Mass, the closing dinner was held at the traditional Yorktowne Hotel.
The event was especially honored with the presence of Prince Bertrand of Orleans-Braganza who is spending some weeks with the American TFP.