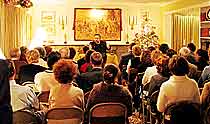 In opposition to the growing trend to celebrate Christmas in secular fashion, the American Society for the Defense of Tradition, Family and Property (TFP) invited Fr. John Trigilio to speak about the sublime meaning of this important feast.
The event took place on December 12 in Hazleton, Penn., to a full house of 80 TFP friends and supporters from the area and as far away as Connecticut.
After answering questions about his recent book, Catholicism for Dummies and his program on EWTN, Father Trigilio explained the symbolism of the Advent wreath and especially the meaning of each one of its four candles. The first candle symbolizes natural light, the light all need to see things in the world. The second symbolizes the light of the human intellect, which is superior to physical light. The third candle represents the light of Revelation and the fourth represents Our Lord Jesus Christ Himself.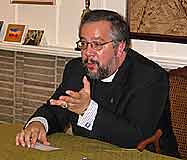 Among other interesting facts, Father Trigilio explained why the Church chose December 25 to celebrate the feast of Christ's birth. It is not to take the place of the pagan celebration of the winter solstice, as some Protestants claim. Saint Augustine says that since the exact day of Christ's birth is not known, the Church chose to celebrate Christmas on December 25 to reflect the saying of Saint John the Baptist: "I must decrease, that He may increase."
December is the time of year when the days are darkest, and Christ comes with His Light to expel the darkness. In contrast, the feast of Saint John the Baptist is on June 24 when the light is the greatest. After this day of the year, daylight hours decline, representing the decrease of St. John in preparation for the increase of light which starts with the coming from Christ.
Lamenting the gradual loss of so many Catholic traditions, Father Trigilio mentioned that a growing number of young Catholics are eager to learn why certain things are done in the Catholic Church. He mentioned the example of the three crosses made on our forehead, lips and heart before the Gospel during Mass. Father Trigilio explained that they mean: May the words of the Gospel be in my thoughts, my lips, and in my heart.
Good Catholic conviviality followed Father's talk. People had a chance to converse and ask Father further questions, which was a real treat for most of those present who only see him from time to time on the television screen. The lecture was indeed a "light" shining forth with the beauty of Catholic symbolism and tradition in a time when many prefer the darkness of secular festivities. The cold winter night was considerably less so after this gathering overflowing with the true warmth and spirit of Christmas. All thanked Father Trigilio for taking this time from his very busy schedule to enlighten them on the symbolism of Christmas.