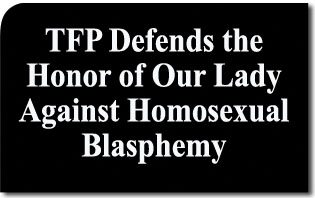 The Dallas Theater was called to task for blasphemy against the Virgin Mary in Dallas, Texas, December 6, 2013 — Protesters gathered at the intersection of Turtle Creek Blvd. and Lemmon Ave. near the Kalita Humphreys Theater in Dallas, Texas, on December 8 at 1:00 PM to oppose Paul Rudnick's play, The Most Fabulous Story Ever Told.
"One word describes the indecent play: Blasphemy," stated John Ritchie, spokesman for The American Society for the Defense of Tradition, Family and Property (TFP), the group calling for peaceful protest.
"Blasphemy is not free speech," Ritchie said.  "Defamation is not artistic expression."
"The Most Fabulous Story Ever Told is a twisted version of the Bible story told from a pro-homosexual perspective and doesn't belong in any theatre," Ritchie explained. "It begins with scenes of "Adam and Steve" expelled from a Garden of Paradise with full frontal nudity and ends with the Blessed Mother portrayed as a lesbian.  This immoral and defamatory play drags the pure and immaculate reputation of the Mother of God into the mud of unnatural vice."
"As most Americans prepare to celebrate Christmas, the Kalita Humphreys Theater is going out of its way to attack the Mother of God.  Not only does this gravely offend her Son Jesus Christ, but it also wounds countless Catholics who regard the Virgin Mary as their own mother," Ritchie continued.  "For decades the homosexual movement has been calling for more and more tolerance.  However, there's nothing so intolerant as blasphemy."
"To attack anyone's mother is just wrong, but it's even worse when the attack is directed against such a blameless and pure figure as the Virgin Mary, then flaunted on stage as a work of so-called 'art.' I reject this play with every fiber of my soul," he said, "and invite fellow Catholics to join me for an act of public reparation this Sunday, which will include the recitation of the rosary."
In 2006, the TFP organized over 2,000 protests at theaters nationwide against the movie The Da Vinci Code.