""""[vc_column_text]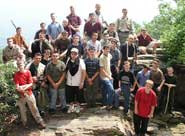 Our summer camps are gaining a reputation for being formative, entertaining and exciting. This year's camp held from August 4-13 at the headquarters of the American Society for the Defense of Tradition, Family and Property in Spring Grove, Penn. certainly surpassed expectations.
Modeled after the TFP program in Louisiana in July, participants came from all over the country and even from England to immerse themselves in a Catholic atmosphere which stressed the importance of chivalry in our days.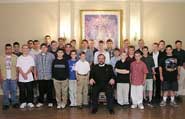 "With all the amorality of our society, boys realize that life is a constant struggle to keep the Faith," said camp counselor Matthew Shibler. "Once they see things that way, the long-forgotten ideals of chivalry become surprisingly timely."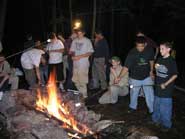 The boys attended talks, slide presentations and theater plays that explained the present crisis based on the book, Revolution and Counter-Revolution by Prof. Plinio Corrêa de Oliveira. Other activities included a two-day hike up and along nearby Peter's Mountain, a trip to Fort McHenry, nightly rosary processions and the always-popular medieval tournament.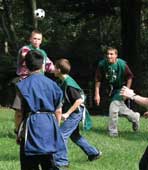 During this tournament, the young "knights" formed two teams under the patronage of Saint Louis and Saint Ferdinand. They competed in games such as French football, cavalry charge, and shieldball. However, their knightly skills were best tested in the obstacle course.
During the tournament, the cooks were hard at work, smoking a 200 lb. pig and two turkeys for the medieval banquet, which everyone enjoyed. After dinner, those "knights" who fulfilled the requirements were given a resin-cast wall figurine of a medieval warrior, to remind them of the courage and strength necessary to face the moral dangers of our days.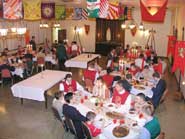 After the camp, the boys left, resolved to maintain a chivalrous bearing amidst these dangers confident in the Blessed Mother and looking ahead with even greater expectations to next year's camp.[/vc_column_text][/vc_column][/vc_row]""""[vc_gallery type="image_grid" images="10974,10975″ img_size="full"][/vc_column][/vc_row]