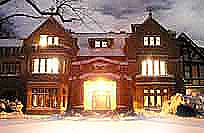 Over 100 local supporters and friends seeking a traditional holiday atmosphere where Christ is still found in Christmas attended an annual Open House, held at the national headquarters of the American Society for the Defense of Tradition, Family and Property (TFP) in Spring Grove, Pennsylvania on December 21.
Visitors toured the grounds and the St. Elizabeth Ann Seton Building where the TFP offices are located. The TFP was especially pleased to see so many local friends and neighbors.
Most of the program was at headquarters' historic main house built in 1911. In a special atmosphere decorated for the coming Christmas celebration, the guests enjoyed cheese, finger foods, cookies, eggnog and hot apple cider.
As in years past, TFP members and supporters sang Christmas carols on the main staircase, surrounding an intricately decorated Nativity Scene with pieces from Europe. Lively conversation was everywhere. It was an opportunity for old friends and new to celebrate with true Christmas spirit the coming of the Christ Child, Who finds so many souls closed to Him in today's world.