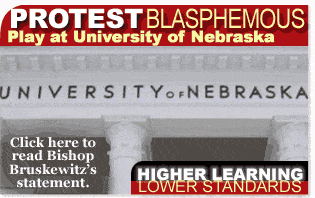 When Terrence McNally's work Corpus Christi shows at the University of Nebraska's Studio Theatre on December 1-3, it will generate plenty of controversy and negative publicity. Wherever it is staged, the blasphemous play, which portrays Our Lord Jesus Christ and the apostles as homosexuals, always triggers protests from deeply offended Catholics who have come to Our Lord's defense with vibrant and moving acts of reparation.
On the last night of the showing, the American Society for the Defense of Tradition, Family and Property (TFP) and its America Needs Fatima campaign will be holding a protest at the university's Studio Theatre. It will be a peaceful and legal act of reparation and candlelight prayer vigil featuring the rosary, hymns, the Divine Praises and other prayers.
Local Catholics and students are encouraged to attend as a way of showing their special love for the Incarnate Word. The play, which the university newspaper The Scarlet says has "adult content," is especially offensive since it will show during the Advent season.
In addition to the act of reparation, the American TFP web site is promoting a nationwide campaign in which readers can send protest post cards to the Studio Theatre, expressing a complete rejection for the play. Similar emails are being sent to the university's chancellor asking him to reconsider the showing given the offense it is causing to so many Catholics.
TFP Student Action is also planning to get involved with its own campaigns.
"Many of our students find it so unbelievable that such a show is being staged," claims TFP Student Action director John Ritchie. "They are readying and willing to protest."
Because of dogged protests, the staging of Corpus Christi has been rare and restricted. One of the objects of the Nebraska effort is to keep it that way.
To protest see below!
Date: Saturday, December 3
Time: 6:45-8:45 p.m. (Assembly at 6:30 P.M.)
Place: On the sidewalk in front of
The Temple Building
301 N. 12th St.
Lincoln, NE 68588