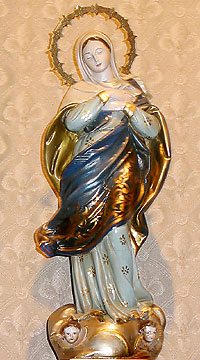 The American Society for the Defense of Tradition Family and Property (TFP) decries the advertisement offering a statue of the Blessed Mother called "Extra Virgin," wrapped in a contraceptive "veil of latex" that appeared in the December 5 issue of the Jesuit weekly magazine America.
The brutal insensitivity of the statue and its obvious contraceptive insinuation defies the imagination and must be vehemently rejected. The sale of such statues is a blasphemous offense against the Blessed Virgin Mary who is most pure. Moreover, the ad was run just before December 8 when Catholics the world over celebrate the Feast of the Immaculate Conception.
While the magazine has issued an apology for what it termed a mistake, the American TFP believes the offense calls for acts of reparation and devotion on the part of all faithful Catholics who are most afflicted on seeing their Mother publicly offended in such an absolutely deplorable way.