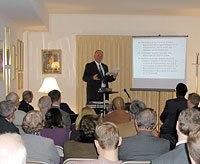 On Saturday, December 3, the TFP Washington Bureau was filled with friends and supporters who braved a blustery winter night to hear a presentation on the hard-hitting book just authored by the TFP Committee on American Issues, Rejecting The Da Vinci Code: How a Blasphemous Novel Brutally Attacks Our Lord and the Catholic Church. American TFP speaker Jose A. Schelini addressed a full and lively auditorium of over 60 people.
The talk at the Bureau in McLean, Va. was part of the American TFP's anti-Da Vinci Code campaign. The book is already circulating far and wide and has received acclaim from two American bishops, numerous priests and conservative leaders.
With a film version of the bestselling novel due in May, the American TFP will soon be mobilizing its supporters and friends to participate in hundreds of peaceful and legal protests nationwide. Mr. Schelini's presentation concentrated on showing the Gnostic doctrine behind Dan Brown's book and why it must be opposed by those who wish to defend the Faith.
"The Da Vinci Code cannot be seen as just an obscure novel but a blockbuster bestseller and its promoters are pulling out all the stops to spread its errors," Mr. Schelini affirmed. "It merits our indignant rejection."
The TFP book provides a much-needed defense against so many of the false claims and arguments found in The Da Vinci Code. Mr. Schelini's presentation helped the audience understand the seriousness of the brutal attacks against Our Lord and the Church. He invited all to join the TFP's anti Da Vinci Code campaign.
As always, the session ended with a lively question-and-answer session and Catholic conviviality.