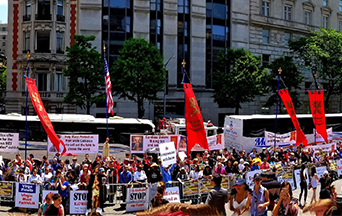 Nearly 600 Catholics gathered for a June 9 rally in front of the Metropolitan Museum of Art on Fifth Avenue to oppose and make reparation for the exhibition, Heavenly Bodies: Fashion and the Catholic Imagination. The New York City event was organized by the American Society for the Defense of Tradition, Family and Property (TFP) and its America Needs Fatima Campaign.
The exhibition features sacred symbols and objects like crosses and rosaries adorning immodest fashions. There were also caricatures of sacred vestments such as bishop's robes made into evening gowns. These and other displays have caused scandal and outrage among many Catholics who see the exhibition as a mockery of all things Catholics.
The offense was made worse by the cooperation of Vatican officials who lent over fifty sacred vestments and objects to be displayed in a gallery as part of the whole exhibition.
The rally coincided with the memorial feast of the Immaculate Heart of Mary. Catholics from all over New York, Pennsylvania, New Jersey and other states assembled in front of the stately museum where they chanted Marian hymns and prayed the rosary to oppose the blasphemous displays that was being allowed inside. As the rosary went on, some onlookers came up to ask what was going on. Others perceived and shouted profanities. Many were sympathetic and ended up joining the rosary.
The rally of reparation took up roughly a block in front of the museum with banners and signs. Two of these  read: "Lay Catholics offer reparation for the sacrilegious Met 'Heavenly Bodies' exhibit," and "Cardinal Dolan: Mixing sin and sanctity is a sacrilege." The hymns were sung to the accompaniment of bagpipes and drums.
New York City's Cardinal Timothy Dolan attended the May 7 Met Gala opening night of the Heavenly Bodies exhibition, which featured shockingly immodest and religiously themed fashions worn by celebrities, popular singers and public figures. Many Catholics were offended by the event.
Youth Stand up to Defend the Honor of the Church
A great inspiration was to see the twenty-seven young men from the TFP's Call to Chivalry Camp held in Herndon, Penn. The protest was part of their summer camp program. The boys and young men (ages 12-18) welcome this opportunity to put chivalry in action by defending the honor of the Catholic Church.
Camp coordinator Thomas Schneider said, "the boys were happy to be out here. Any chance to be out in the streets fighting for the Church, they'll do it."
They were truly enthusiastic in this public display of their love for Our Lord, Our Lady and the Church, which are being attacked by the exhibition.
"It Feels Good to be Catholic Again!"
TFP Volunteer William Siebenmorgan said, "We are the Church Militant. That means as Catholics we are obliged to fight and defend the Church whenever and wherever She is under attack. It was impressive to see so many Catholics who take this duty seriously at the Metropolitan Museum of Art rally."

Learn All About the Prophecies of Our Lady of Good Success About Our Times
Finally, he added, "That is why we are here. To console Our Lord and His Mother and to tell the Metropolitan Museum that this exhibition is intolerable and unacceptable."
One lady who joined the rosary rally summed up the attitude of all present. She exclaimed with  happiness, "It feels good to be Catholic again!"