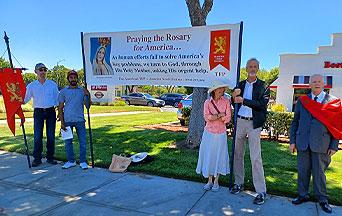 On July 9, the America Needs Fatima campaign organized over 1,100 Public Square Rosary Rallies to pray for America's conversion. This month's theme reflected the state of the nation as it celebrates its birth on July 4.
One rally captain, Philip Calder from San Jose, California, wrote: "Those attending our rally had enthusiasm for honoring our country and asking Our Lady's intervention. All 15 decades were prayed with litanies and invocations. Many fliers announcing the Rosary—were given out to cars that stopped at a busy intersection. Reactions to the rosary rally were varied. Some were quite enthusiastic with a real sense of patriotism and gratitude that we were there. And some were either radically opposed or totally indifferent, refusing even to acknowledge our presence."
The next major Rosary event will be the main Rally in October on October 15 at noon. SIGN UP HERE to be a Rosary Rally Captain on October 15 in commemoration of the Miracle of the Sun at Fatima in 1917.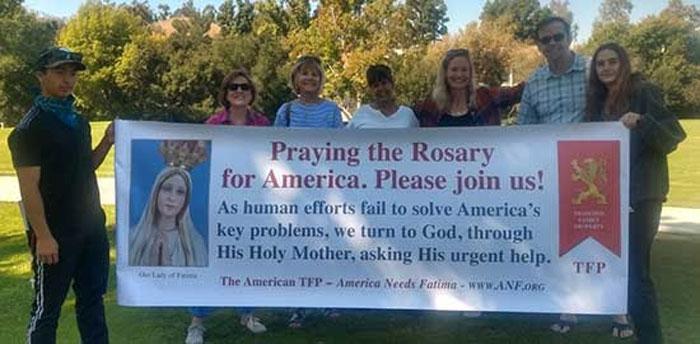 When America Needs Fatima started the Public Square Rosary Rally campaign in 2007, no one could have imagined that Roe v Wade would be overturned by the Supreme Court fifteen years later. However, Our Lady was preparing her rosary warriors across America to take back the culture through the Rosary. By praying in public, everyone can have an impact on the community and help make abortion and all other moral evils unthinkable nationwide.
So JOIN the campaign by praying the Rosary in public on October 15 at noon to celebrate the overturning of Roe v. Wade and begin the next phase of the effort to bring America back to God and Our Lady.
Holding a Rosary Rally is simple; just gather family and friends and pray the Rosary for America in any public place.
Praying the Rosary for America will help to restore order and call God's blessings on America. Show gratitude to God and Our Lady by signing up to be a ROSARY RALLY CAPTAIN here and pray the Rosary in public on October 15 at noon in commemoration of the Miracle of the Sun.