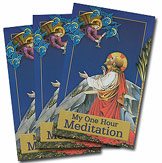 America Needs Fatima is distributing copies of My One Hour Meditation booklet, written by the fiery Catholic leader Professor Plinio Corrêa de Oliveira, to encourage its members to do more prayer and reparation before Our Lord in the Blessed Sacrament.
The professor's words are very clear concerning the task that confronts the faithful:
In this moment in which Holy Mother Church is attacked from so many angles, let us not fool ourselves that all is well. Let us recognize that the hour is grave and view future threats in a manly, Christian manner. We need confident, resolute, prayerful, battle-ready spirits, ready to sacrifice.

Such is the example our Divine Master gave us. He sought to be alone with God so that He could measure the full scope of the sorrow awaiting Him, and take His stand before this perspective.
These inspiring meditations within the booklet help us share Jesus' sorrows today when He is profaned by such sins as the recent homosexual "wedding" in Notre Dame Cathedral, Paris, and in America, radical homosexuals from the Rainbow Sash movement entering churches and receiving Holy Communion while defiantly wearing their sashes.
These public sacrileges are very painful and repugnant to every true Catholic, and in reparation for these grave sins, America Needs Fatima members are increasing the time and frequency of their visits to console Our Lord in the Blessed Sacrament by using My One Hour Meditation booklet.
If you would like a booklet, call 1-888-317-5571.