The lesbian "rock opera" Jesus Has Two Mommies will show December 6-7 at the Somerville Theatre in Somerville Mass., four miles north of Boston.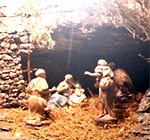 Jesus Has Two Mommies mocks the Virgin Birth, the Holy Family, and shows the Child Jesus born to two lesbians, Mary and Josephine. The opera portrays Mary and Josephine's affair at a lesbian bar as the "real Christmas story."
According to press reports: "Luckily the trio is up to the challenge. The trio consisted of God…Jesus and the angel Gay-briel…Blessing Faith [Faith Solowary, the author] with a Psalm Pilot, they present the real story of Jesus' birth and life. It all started at 'the hottest lesbian spot in all of Nazareth — The Burning Bush.' Among the patrons of this bar are a local carpenter named Josephina…and the newcomer Mary…the couple ignites immediately." (Out in the Mountains, Jan-2002).
The American TFP and its America Needs Fatima campaign has already sent out 200,000 protest postcards. On its part, the TFP website is coordinating a massive e-campaign hoping to motivate its subscribers to action. "I hope that we can encourage our subscribers to participate by sending a protest email to the Somerville Theatre's parent company, FEI Theaters," said TFP Webmaster John Horvat. "These emails, together with the protest postcards, will send a big message to The Somerville Theatre, that American Catholics have a voice, and will not tolerate this offense."