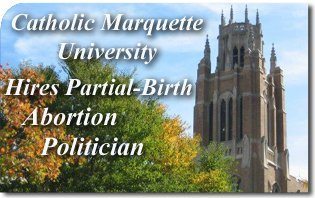 Despite his 100% pro-abortion record from NARAL, the former U.S. Senator Russ Feingold was invited to join the faculty of Marquette University, a Catholic institution, as a visiting professor of law. The event is understandably causing scandal.
According to the record, Senator Feingold not only supported the grisly procedure known as partial-birth abortion but also favors same-sex "marriage" and embryonic stem cell destruction.
However, Marquette Law School Dean Joseph D. Kearney attempts to explain the appointment away: "While I do not doubt that some of his views are controversial, or, still less, suggest that all of them are right, an institution of legal education is especially well suited to explore multiple dimensions of such issues."
Students naturally look up to their teachers and teachers who support the killing of innocent unborn children – as is the case here–are inappropriate educational role models in any school, not to mention a Catholic university.
Feingold's appointment seems to brush aside the words of Pope Benedict XVI to Catholic educators delivered at the Catholic University of America in 2008:
"Teachers and administrators, whether in universities or schools, have the duty and privilege to ensure that students receive instruction in Catholic doctrine and practice. This requires that public witness to the way of Christ, as found in the Gospel and upheld by the Church's Magisterium, shapes all aspects of an institution's life, both inside and outside the classroom."
Please voice your peaceful protest politely yet firmly:
Marquette University Law School
Joseph D. Kearney
Dean and Professor of Law
[email protected]
Phone: (414) 288-1955
Marquette University
Fr. Robert A. Wild, S.J., President
O'Hara Hall, 101
P.O. Box 1881
Milwaukee, WI 53201-1881
[email protected]
Phone: 414-288-7223
Diocese of Milwaukee
Most Reverend Jerome E. Listecki
Archbishop of Milwaukee
3501 S Lake Dr.
P. O. Box 070912
Milwaukee, WI 53207-0912