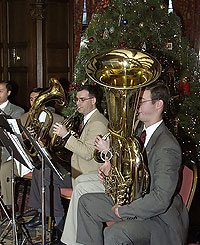 On December 18, nearly 250 local supporters and friends of the American TFP gathered at the group's national headquarters in Spring Grove, Pennsylvania, for this year's Christmas open house. The reality that Christ's birth should be at the center of the holiday, was a consideration that greatly influenced this year's celebration.
During the event, visitors went on scheduled tours of the TFP office buildings. However, most of the program was at the property's historic Glatfelter mansion, built in 1911, which was richly decorated for the coming Christmas celebration. The centerpiece of the mansion's main hall was an intricately arranged Nativity Scene with pieces from Europe.
While at the mansion, the guests enjoyed cheese, finger foods, cookies, eggnog and hot apple cider. They also sang Christmas carols, led by members of the TFP Choir, and listened to presentations by the TFP Holy Choirs of Angels band.
Lively talk and Christmas cheer were everywhere. Conversations were only interrupted once each hour for a drawing, in which guests had a chance to win a statue of the Infant Jesus, Christmas story CD and a Christmas gift basket.
After four hours, the official program ended, but many guests, unwilling to leave such a blessed ambience, stayed for up to two more hours. When all was said and done, the participants agreed that the event had been an opportunity to bring Christ back into Christmas in a world in which so many souls are closed to Him.