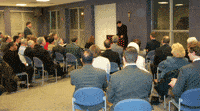 Over fifty TFP friends and supporters in the Baltimore area filled the student lounge at the Loyola University Graduate Center in Timonium on March 13 to listen to Fr. Anthony Brankin speak on "The Cult of Ugliness in America." Father also spoke the following night to a full auditorium in the amenable atmosphere of the TFP Washington Bureau in McLean, Virginia.
Ordained a priest of the Archdiocese of Chicago in 1975, Father Brankin has been the pastor of St. Thomas More parish, on Chicago's Southside since 1989. From his youth he was attracted to the arts and music. Now, however, he is alarmed by "the unyielding ugliness that pervades everywhere." He argues that such ugliness has dulled the sensitivities of countless Americans who fail to recognize it.
Ugliness is not just a matter of personal taste nor is beauty in the eye of the beholder. Father Branken claims ugliness can be known objectively and has an effect upon souls since it takes man away from God.
Drawing from St. Thomas Aquinas, Father Branken explained how beauty is that which when seen pleases. Thus, art should please the eye and soul of the beholder. Art must imitate nature and its beauty is based on its fidelity to proper proportion, form, balance and perspective. Ultimately, the beauty of God can be discerned in the beauty of Creation – even when recreated by the artist.
Modern art, however, rejects these criteria. It proclaims there are no standards, absolutes or points of reference. It celebrates that which is ugly, misshapen or disfigured. It distorts the form and proportions in nature. It no longer reflects God and can only lead man away from God. Thus, modern religious art with its distorted figures, Father Branken noted, sends a distressing message to parishioners.
Father Branken stressed that these considerations about beauty also have grave social consequences. In a virtuous society, beauty is only recognized by those who possess it. In a society where virtue is no longer practiced, evil will embrace ever more radical forms of ugliness – the heinous, the blasphemous and the macabre. That is why today's culture of death is almost synonymous to a culture of ugliness.
In fact, modern art is but a continuation of the ever-ancient assault on beauty – Satan's rage against God. In the distorted figures that fill America's public places, one hears "the unspoken message" that comes from any deliberate mutilation of form: "There is no God!" Thus, art undermines the Faith and forms a secular atheistic culture.
Father Branken concluded with a challenge for Catholics to become emboldened to fill their lives with beauty and expel ugliness whenever possible. He spoke of the family as an insulating unit and refuge from ugliness. Working with the grace of God, the Catholic family is the primary hope to break with the cult of ugliness and give rise to a new culture of beauty.