From January 22-24, TFP Student Action attended the 31st annual Conservative Political Action Conference (CPAC) at the Crystal Gateway Marriot Hotel in Arlington, Virginia. It is the oldest and largest gathering of conservative activists in the nation.
Scarcely did the March for Life begin on Constitution Avenue in downtown Washington D.C. when CPAC kicked off across the Potomac with Vice President Dick Cheney giving the opening speech. The conference, organized by the American Conservative Union and co-sponsored by over 70 of America's leading conservative organizations, drew more than 4,000 participants from every state in the union, as well as Canada, Latin America, and Europe.
In addition to meeting and learning more about each other, the participants in this year's CPAC also had the opportunity to hear speeches by many conservative leaders, including Phyllis Schlafly of the Eagle Forum, former House of Representatives Majority Leader Dick Armey, Wayne LaPierre of the National Rifle Association, David Keene of the American Conservative Union, and more than 100 others, including current and former senators and congressmen.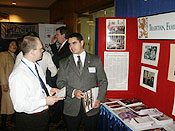 FP Student Action promoted the TFP's latest publications, especially its most recent book, Defending a Higher Law: Why We Must Resist Same Sex Marriage and the Homosexual Movement.
TFP Student Action volunteers also collected nearly 300 surveys on the homosexual issue at CPAC.