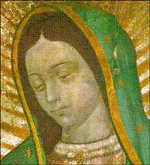 Overwhelming public outcry should have prompted the museum officials to cancel the art exhibit. However, despite the continual yet peaceful protests, Alma Lopez's "Our Lady" exhibit at the Museum of International Folk Art in Santa Fe, New Mexico will remain for five more months.
Press reports describe the exhibit as a computer collage portraying a bikini-clad Virgin of Guadalupe, held aloft by a topless woman-angel. Offended Catholics have peacefully protested for nearly three months without avail.
After eleven meetings, the museum's directors have decreed that the exhibit will stay. In a "spirit of reconciliation," they announced that the entire exhibit will close four months early on October 28.
In response to the decision, the American TFP and its affiliate campaign America Needs Fatima announced a June 30 rally of peaceful protest and reparation in front of the museum.
"How can anyone be reconciled with the fact that Our Lady will be blasphemed for four fewer months," says campaign director Robert E. Ritchie. "We have no choice but to rally protesters, praying the rosary and peacefully protesting to defend Our Lady's honor."
Thousands of Catholics appeared for similar peaceful protests against the play Corpus Christi, the movie Dogma and other such blasphemies. Judging from the interest, Mr. Ritchie believes this protest might be the biggest ever.
TFP and America Needs Fatima supporters are already sending e-mail protests to Museum of International Folk Art. They have also sent Enough is enough! protest postcards. A museum official is reported to have stated the state institution has already received some 12,000 postcards and more are arriving daily.
The TFP rally is one more step Catholics can take to let their voices be heard. Plans are under way to mail out invitations and place newspaper ads announcing the rally.
"A lot of people are offended by the exhibit." Mr. Ritchie added. "Our Lady of Guadalupe is very special to all Americans and especially Mexican-Americans. It is hard to believe that She is being publicly portrayed in such a horrible manner."
Be a part of this historic campaign today!
Here is what you can do!
1. Pray for the success of this campaign.
2. Resend this special e-mail message to your family and friends.
3. Write, fax or call the museum at:
The Museum of International Folk Art,
P.O. Box 2087,
Santa Fe, New Mexico 87504-2087.
Phone: (505) 476-1200,
Fax:(505) 476-1300.
E-mail: [email protected]
Please help us now with your donation!
To donate online, click here.
To send by mail, click here