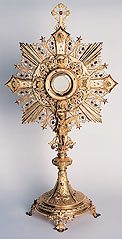 After a full month of theater protests, the American TFP will sponsor a national hour of Eucharistic adoration in reparation for The Da Vinci Code's blasphemies. The event will be held from 5:00-6:00 P.M., on June 18, the feast of Corpus Christi. The TFP hopes its more than 1,000 protest organizers will sponsor an hour, either alone or in groups large or small.
Promoters of the TFP event believe that since Our Lord is truly present in the Blessed Sacrament, there can be no better place to make reparation to His Sacred Heart for the widespread blasphemies of The Da Vinci Code.
"Our Lord is present in the Blessed Sacrament in almost every city where The Da Vinci Code is being shown," said Reject The Da Vinci Code campaign coordinator Francis Slobodnik. "Hopefully, we can reach out and comfort Him in all these cities as well."
The adoration hour will also allow people from across the nation, who were unable to participate in theater protests, to offer reparation to God. As America Needs Fatima director Robert Ritchie put it: "By the eighteenth, the film will have already stopped showing in many theaters and we will have done what we could to offer public reparation for The Da Vinci Code's public blasphemies. Nevertheless, we will still be able to pray and offer sacrifices."
If you would like to get involved in this effort, it is easy. Here is all you have to do.
1. Find a chapel that has the Blessed Sacrament (preferably an adoration chapel)
2. Invite your friends and family to join you or go to the chapel alone and pray from 5:00-6:00 P.M. Eastern Time on Sunday, June 18.
Note: The event is scheduled for 5:00-6:00 P.M. Eastern time. If you live outside the Eastern time zone, schedule your prayer vigil from 4:00-5:00 P.M. Central Time, 3:00-4:00 P.M. Mountain Time or 2:00-3:00 P.M. Pacific Time.