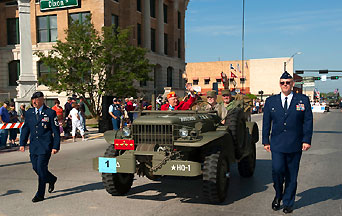 Honor is a virtue that falls under the category of justice, which demands that we give to each what is his due. Thus, we get the expression "to honor someone." This is what the citizens of Gainesville, Texas—named after War of 1812 Gen. Edmund Gaines—have been doing every year since 2000 with the Medal of Honor Host City Program. As with all things Texan, they do it in a big way.
Organic Beginning
Gainesville is a small town of 15,000 situated an hour drive north of the Dallas-Fort Worth Metroplex with its population of 6.8 million. Founded in 1850, this tiny town was originally called Liberty before citizens realized there was already a Texas town by that name. It is an appropriate moniker for a city that rolls out a red, white and blue carpet for recipients of the Medal of Honor, who fought dearly for our freedom.
The idea for the Gainesville Host City Program was organically born at the 2000 National Medal of Honor Convention in Denver, Colorado. Vietnam veteran, Col. Donald "Doc" Ballard, a former Navy corpsman, was asked what he wanted on his page in the Medal of Honor: Portraits of Valor book. He asked the photographer to find him two Marines to pose with him for the photo. Col. Ballard wanted them to stand in the background, looking off in either direction, as he sat in the foreground with a pensive, troubled look. This was to symbolize his concern for the fate of those he assisted in battle.
The photographer went down to a nearby bar and found Don Pettigrew and Gary Alexander, both Marines who had served together in Vietnam. Little did the two men know the significance of the photo for which they were about to pose.
After the photo shoot, they exchanged information, and "Doc" invited them to some of the Medal of Honor events. Thus was forged a friendship that led Mr. Pettigrew to invite Col. Ballard to Gainesville so that the city could honor him. Mr. Pettigrew simply wanted his city to be given the chance to honor someone who had received our nation's highest award for valor. He described the trip as their way of saying, "You have done enough [for our country], it is our turn to do something for you. Your money is no good in Gainesville."
Later that year, Col. Ballard visited Gainesville and was given royal treatment as he regaled the locals with his war stories. Thus began a tradition that became known as the Host City Program which has grown exponentially since then. It is the only such program in the country. Twenty-one recipients attended this year's event which started with a motorcade that brought the Dallas-Fort-Worth Airport's Terminal A and rush hour traffic on the northbound side of Highway 35 to a halt.
Unforgettable Motorcade
American Airlines provides miles for the recipients to fly free to the Dallas-Fort Worth Airport. Walmart Distribution Center in Sanger, Texas provided their expertise of getting the recipients luggage from the airport to Gainesville's Hampton Inn. Local volunteers made sure the bags were carefully delivered to their respective rooms. This allowed the recipients to simply board the bus for the most memorable one-hour-and-fifteen-minute motorcade one will ever experience.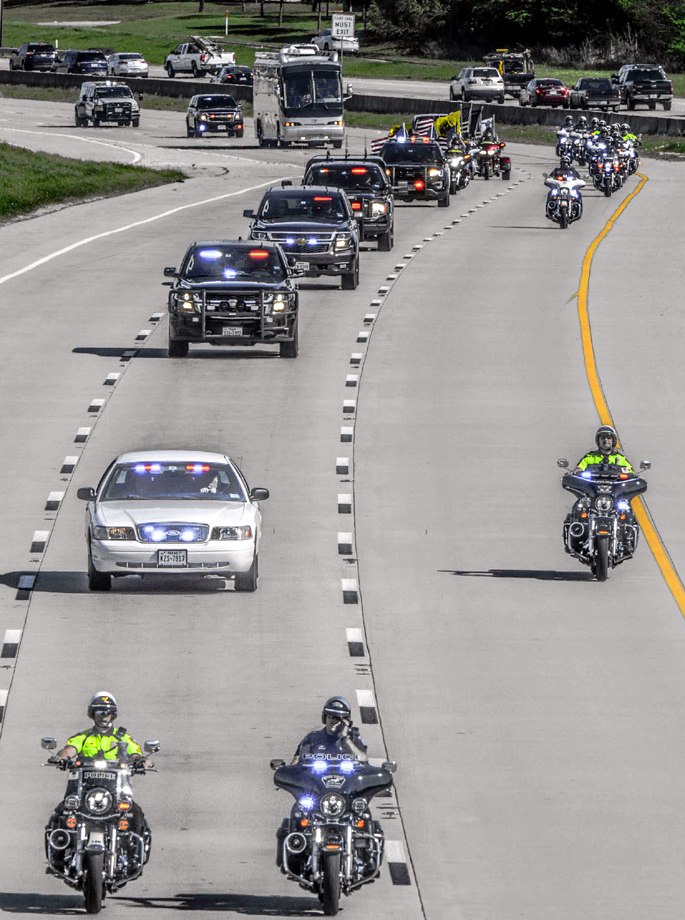 Dozens of police cars, SUVs and motorcycles led the way while an equal number followed behind the Medal of Honor bus carrying the recipients and their guests. Red, white and blue flashing lights and blaring sirens created an attention-grabbing sensation. This was only augmented by 504 members of the patriotic motorcycle club Rolling Thunder, many of them with large American flags flapping in the wind.
The caravan of sound and light—which stretched nine miles long—drove sixty miles past old and young, men, women and children who lined the route. Twenty-five-mile-per-hour winds only served to enhance the drama as many well-wishers, standing on the side of the road, struggled to keep large American flags held aloft. As the motorcade passed each small town, along the route, large crowds stood on overpasses waving with such a show of support that even a pacifist would have had goosebumps. While the patriotism of large groups was inspiring, it was the little scenes that were most expressive.
At a certain point, a mother with three young children in tow ran to the edge of the road just in time to catch a glimpse of the passing motorcade. Her tiny daughter waved enthusiastically. One gentleman stood at attention and saluted in front of his car that was draped with a massive American flag.
Some held hand-made signs welcoming the heroes such as, "Home-Free, Because of You." Another just had the letters "USA," and finally there was the little girl with a heart shaped American flag and a succinct message, "We Love You." A DHL driver took time from his deliveries to stop, get out of his van, stand at attention and salute. A man riding a beautiful quarter horse, dressed in Civil War attire and waving a Confederate Flag, galloped along the highway in Texas style.
Later a solitary man stood calmly next to his car on the opposite side of the freeway with his hand on his heart. With such signs of respect, it was not long before southbound traffic recognized the northbound motorcade. Cars began to slow down and at moments came to a reverential stop as the motorcade passed.
Being Welcomed From the "Front Porch of Texas"
What makes Host City Program so special is how the whole city takes part in the event. For example, numerous local businesses lend a helping hand, which has served as a means to make the program what it is today.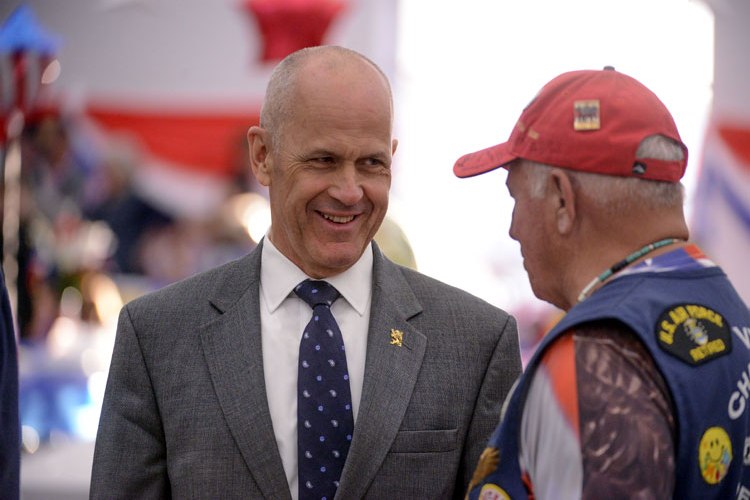 Gary Cox, a member of the Host City Board, is one of a myriad of volunteers who make the event such a success. As we chatted in the hospitality room, he pointed to an Otts Furniture van parked outside. He amusingly described entering a U-Haul store to rent a van to transport merchandise for the three-day event. Someone with Otts happened to be standing nearby and said, "Don't do that, we will loan you one of ours." Tears welled up in Laura Otts eyes when I took the time to stop by her family furniture store to express my appreciation for their support.
Ken White nearly became emotional as we chatted over lunch about the event. He drives for Newton's Big Hat Limousine from nearby Valley View, Texas. They provide one of the buses for the yearly motorcade as well as a thirty-five passenger minibus to shuttle recipients to and from events. Mr. White described how he had been watching the procession pass below the Valley View overpass for years. One day he decided, "I want to be a part of it." His boss allowed him to be the driver the following year, a privilege he has not relinquished since.
Fort Worth native Glenn Polk also lent a helping hand. He loaned one of the shuttle vans from his Glenn Polk Auto Plex along with the vehicles for the parade. Although Mr. Polk is not a native of Gainesville, he has the same big heart and patriotic sentiments as the locals I met in this charming town.
Hampton Inn donated a room to be used as the hospitality suite for the recipients to relax a bit between speaking engagements. They also provided discounted rooms, and their employees donned red Medal of Honor Host City Program shirts. They have been doing this for over eight years now and have come to know the special needs of each recipient and care for them as they would a family member.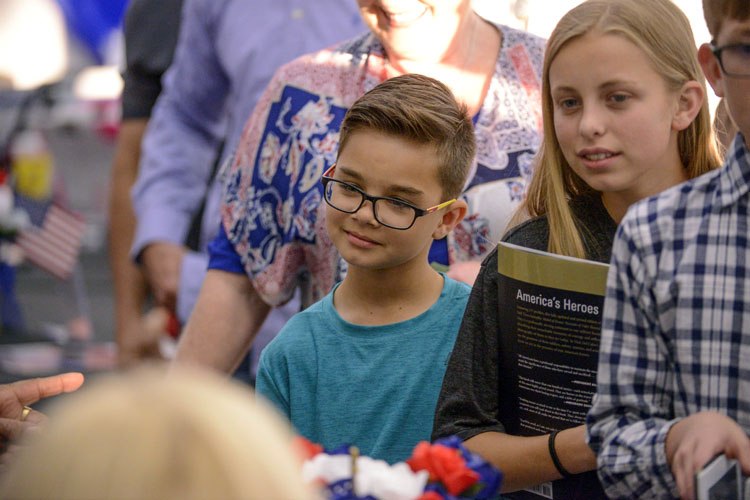 It is with good reason that Gainesville is called the "front porch of Texas." It acquired this name because it is the first city you come to when traveling south out of Oklahoma. It fits the town well since they treat you like old friends standing on the front porch and have the good sense to salute those who bled for their country like Col. Donald Ballard, the first recipient who graced them with a visit nineteen years ago.
"I Have to Find a Way to Laugh it Off. Otherwise, I Will Cry"
Anyone can read his Medal of Honor citation. It is quite another thing to look him in the eyes, as I had the privilege to do, and hear him recount the dramatic events of May 16, 1968, when he earned his medal.
On that day, during an exceptionally intense firefight, he dragged an injured Marine into a bomb crater. He inadvertently laid the injured warrior on top of a grenade which exploded. Both legs of the Marine were virtually amputated before his eyes. As he was caring for a now severely injured Marine, a second grenade landed close by. He was able to get rid of it. However, as he was applying tourniquets to prevent the Marine from bleeding to death, a third grenade fell into the foxhole. This time Col. Ballard, with total disregard for his own life, threw caution to the wind and selflessly flung his body over the explosive device. It was then that he described getting some good advice from on high.
"The good Lord said, 'This ain't smart. You might want to rid of that,'" he jokingly recounted. Heeding this Divine counsel, he tossed the grenade out of the foxhole before it exploded. He is quick to downplay this act of selflessness as a failed suicide attempt and quickly added, "I don't suffer from PTSD but rather PTSH (Post Traumatic Stress Humor)." It is his way of dealing with the painful thought that some of those he fought so hard to save might not have survived. "I have to find a way to laugh it off," he concludes, "otherwise I will cry."
At this point, I realized that although he survived to tell what happened that day, he still carries the emotional wounds. This became clear when Col. Ballard hesitated, stopped speaking, his humor and upbeat spirit momentarily disappeared… and then he wiped away tears that welled up in his eyes.
A Land That Is Devastated, But NOT Without Honor
Men like him fought in an unpopular war and were labeled "baby killers" for doing so. They excelled in combat and achieved a high degree of excellence in the profession of arms. For their actions, they gave patriotic Americans a shining example of honor, yet they were treated shamelessly by many ungrateful, socialist-minded pacifists whose egalitarian philosophy breeds mediocrity.
Thanks to Vietnam veteran and Marine, Don Pettigrew, they are provided the respect they deserve yearly with the Host City Program. His continued assistance, the tireless efforts of the now-President, Tommy Moore and wife Paula, a slew of businessmen and the grateful citizens of Gainesville are truly exemplary. Gainesville may be overshadowed by the Dallas-Fort Worth Metroplex, but once a year they are an example for the State of Texas and the entire country.
Americans should be comforted by the fact that in a land that, from many points of view is devastated, it is by no means a land without honor. There are those who still achieve military excellence in our great country, and thankfully there are those who make an effort to honor them.

"The grandeur of a nation can be measured by the esteem and admiration it has
for its military." –

Plinio Corrêa de Oliveira