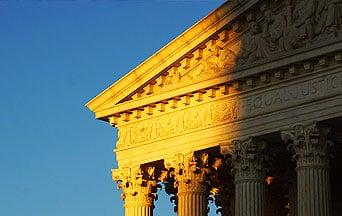 The uproar over the Dobbs decision overturning Roe v. Wade has overshadowed another ruling from the same Supreme Court that defends the criminal justice system in the U.S. The Justices ruled against a move that would have allowed a criminal to escape prosecution for crimes committed on "Native Indian" land.
The overlooked opinion was delivered June 29 in Oklahoma v Castro-Huerta. The Supreme Court ruled 5-4 in favor of the State of Oklahoma, allowing the state jurisdiction to prosecute crimes in "Indian country."
The majority opinion, delivered by Justice Brett Kavanaugh, stated: "The default is that States have criminal jurisdiction in Indian country unless that jurisdiction is preempted. And that jurisdiction has not been preempted here."
Background to Supreme Court's Opinion: Who is Castro-Huerta?
The case involved Victor Manuel Castro-Huerta and his wife Christina Calhoun, who both pled guilty to child neglect due to the mistreatment of Christina's 5-year-old daughter. In 2015, Christina's sister discovered the young girl—who has cerebral palsy and is legally blind—was sick, and medics then rushed her to the hospital in a "critical condition."
The Supreme Court noted that the girl was found "[d]ehydrated, emaciated, and covered in lice and excrement, she weighed only 19 pounds. Investigators later found her bed filled with bedbugs and cockroaches."
Oklahoma successfully charged Castro-Huerta and his wife with child neglect, and Castro-Huerta was sentenced to 35 years imprisonment. His wife received a life sentence.
As Castro-Huerta's appeal made its way through the legal system, the Supreme Court then issued its 2020 ruling in another case, McGirt v. Oklahoma. The court ruled that the Indian reservations had not been properly disestablished when granting statehood to Oklahoma. Consequently, crimes committed by Indians or on Indian ground could only be prosecuted by federal or Indian authorities—not state or local authorities.
Castro-Huerta's wife is an Eastern Cherokee Indian, as is her daughter.
Castro-Huerta's crime was committed in Tulsa, in territory identified by McGirt as "Indian country." Thus, he used McGirt to try and overturn his conviction, arguing that the state had no authority to sentence him. Castro-Huerta was supported in this opinion by the Oklahoma Court of Appeals.
However, as noted succinctly by the Supreme Court's June 29 opinion, "Castro-Huerta is not a U. S. citizen and is unlawfully in the United States."
Origin of McGirt: A Ruling Which 'Destabilized' Governance
In a striking parallel to Castro-Huerta, the McGirt case came about due to another man attempting to avoid just punishment. Jimmy McGirt married a woman of the Broken Arrow tribe and began sexually abusing her granddaughter on a prolific basis when she was just four years old.
He was found guilty in 1997 and handed life imprisonment along with two 500-year sentences. Then in 2015—based on the Murphy v. Royal case—he argued that the state did not have the authority to prosecute him since his crime was committed on Indian territory. The case went to the Supreme Court, which issued its 5-4 opinion in 2020 in his favor.
Justices Roberts, Kavanaugh, Alito and Thomas dissented, with Justice Roberts warning that the decision would mean "[a]cross this vast area, the State's ability to prosecute serious crimes will be hobbled and decades of past convictions could well be thrown out. On top of that, the Court has profoundly destabilized the governance of eastern Oklahoma."
"At the end of the day, there is no escaping that today's decision will undermine numerous convictions obtained by the State, as well as the State's ability to prosecute serious crimes committed in the future," Roberts wrote.
Moreover, legal scholars argued that McGirt could also affect water usage and regulation. Justice Roberts noted it would lead to "significant uncertainty" on issues across America regarding "taxation, family and environmental law."
McGirt thus set a dangerous precedent that undermined the process of law in Oklahoma, a reality highlighted by Justice Kavanaugh on June 29. With McGirt heavily hindering Oklahoma authorities from prosecuting crimes committed in "Indian country," the state resorted to handing over criminal cases to federal prosecutors and federal courts.
The state of Oklahoma consequently had to defer "prosecutorial responsibility for more than 18,000 cases per year to the Federal and Tribal Governments" under the terms of McGirt. Thus, Justice Kavanaugh's June 29 opinion stated that this "created a significant challenge for the Federal Government and for the people of Oklahoma."
Indeed, crimes committed on such territory were at risk of not being prosecuted in a timely manner or even at all. Kavanaugh noted that at the end of the 2021 financial year, the Department of Justice (DOJ) was "opening only 22% and 31% of all felony referrals in the Eastern and Northern Districts of Oklahoma."
Furthermore, "many people may not be held accountable for their criminal conduct due to resource constraints," the DOJ admitted.
Supreme Court Rules Against Indian Autonomy from State Prosecution
Issuing the June 29 opinion limiting McGirt, Justice Kavanaugh wrote, "Indian country is part of the State, not separate from the State."
Overruling Castro-Huerta's argument, the Supreme Court held that "[t]he Federal Government and the State have concurrent jurisdiction to prosecute crimes committed by non-Indians against Indians in Indian country."
The ruling continued:
"This Court has long held that Indian country is part of a State, not separate from it. Under the Constitution, States have jurisdiction to prosecute crimes within their territory except when preempted by federal law or by principles of tribal self-government. The default is that States have criminal jurisdiction in Indian country unless that jurisdiction is preempted. And that jurisdiction has not been preempted here."
Oklahoma Welcomes Supreme Court Ruling
Not surprisingly, Oklahoma's pro-life Governor Kevin Stitt welcomed the Supreme Court's ruling, grateful for its affording his state greater ease in enforcing the law. He called it "a clear victory for all four million Oklahomans, the state of Oklahoma, and the rule of law."
While the dissenting Supreme Court justices characterized the court's ruling as somehow oppressing Indians, Gov. Stitt responded that the ruling allowed "Oklahoma to prosecute non-Natives who violate the law and protect Native victims."
Highlighting the devastating impact of McGirt, which meant "federal prosecutors have declined thousands of cases like Castro-Huerta," Gov. Stitt said that the "criminal-justice crisis" could now be addressed."
"The Court upheld that Indian country is part of a State, not separate from it," he added.
Stitt continued:
"Justice has been delayed and denied to thousands of Native victims in our state for no reason other than their race. Now Oklahoma law enforcement can help uphold and enforce the law equally, as we have done for over a century."
Broader Impact on the Nation
The Supreme Court's decision impacts the nation far beyond the confines of the State of Oklahoma. In defending the state's ability to prosecute crimes, the Court ruled that "States" generally have jurisdiction to prosecute crimes unless specifically prevented. The states of Nebraska, Texas, Kansas, Louisiana, and Virginia submitted briefs to the Supreme Court along with Oklahoma, meaning that Oklahoma will not be the only state actively seeking to enforce the law.
Shortly after the ruling, First Assistant U.S. Attorney Gregg Peterman for the area of South Dakota noted that the ruling would affect that state immediately.
However, the ruling was criticized by others. While avoiding mentioning the backlog of criminal cases requiring attention—which Kavanaugh referenced in his ruling—representatives from the Cheyenne River Sioux Tribe attacked the ruling. Wayne Ducheneaux II described it as "damaging for Native nations and a threat to Tribal sovereignty" and even "bad for non-Native people too."
Condemning the ruling, The Guardian also attacked the outcome, criticizing the Supreme Court for overturning Roe v. Wade and accusing Justice Kavanaugh's word of being "from the most ardent anti-Indian racist of a bygone era."
With McGirt now limited but not entirely overruled, a broader return to correct enforcement of the law according to the Constitution looks more likely.
Welcoming the Supreme Court's decision, Texas Army National Guard veteran and political commentator Allan Wall referred to McGirt as a "preposterous ruling." He noted that McGirt had "proscribed state and local law enforcement from prosecuting crimes in cases involving Indian victims or perpetrators, even though tribes and the federal government don't have the resources to do so," resulting in prosecutorial chaos.
While not completely abolished, the devastating and destabilizing impact of McGirt is nevertheless greatly limited, meaning that individuals such as McGirt and Castro-Huerta, who sought to twist the law to escape prosecution, will find it harder to do so.
Unborn babies gained immensely with the Dobbs decision. The rule of law triumphed with the McGirt decision. There is cause for a double celebration.