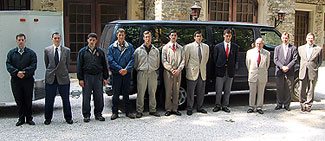 The TFP-staffed St. Louis de Montfort Academy just finished classes for the year, but a group of seven students will not spend their summers lounging on the couch. Led by TFP member Mathew Shibler, they are traveling across the nation as part of the Reject The Da Vinci Code campaign.
Their grueling schedule will take them from the TFP headquarters in Spring Grove, Penn., to New York City and Boston, then all the way west to California and back to Louisiana – a trip of 7,000 miles they hope to accomplish in just over three weeks, stopping at twenty cities on the way.
During the day they will hand out flyers promoting the TFP book Rejecting The Da Vinci Code in city centers, while their evenings will be spent protesting the blasphemous film at theaters.
Mr. Shibler hopes the trip will help the students form a militant Catholic spirit. "I feel trips like this are very formative," he said. "The streets can be a rough place and I am sure that at some point in their travels, they will have to defend the Faith to a hostile audience. That is exactly what young Catholic men need."
Mr. Shibler also said that their caravan was dedicated to St. Elias, whom he called "a champion against blasphemy."
After finishing the caravan in Louisiana, the group will help coordinate this year's Louisiana Call to Chivalry camp. All in all it will be an action-packed summer spent in the service of God.
Some young people may feel that youth was made for pleasure. However, these adventuresome adolescents prefer to follow the councel of the French poet and playwright Paul Claudel, who wrote: "Youth was not made for pleasure, but for heroism."