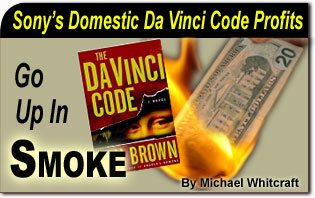 In the second-largest electronics recall in history, Sony Corporation is set to replace six million potentially explosive batteries installed in Apple and Dell laptop computers. It is estimated that this recall could cost Sony a whopping $256 million, nearly a fourth of its profits for this year.1
The recall was due to a defective battery that sometimes short-circuits and discharges its stored energy in the form of heat. When this heat discharge occurs under the right conditions, spontaneous combustion can result.
Though a $256 million loss will not be detrimental to Sony's survival, experts feel the mega-company will suffer more from the loss of consumer confidence.
Mitsushige Akino, a chief fund manager at Ichiyoshi Investment Management told itnews.com.au: "Sony's brand image has been tainted. No doubt about it."2 Yuji Fujimori, an investment bank analyst, corroborated his opinion: "It's difficult to take an optimistic view of the medium-term impact on Sony's battery business."3
Exacerbating Sony's wounded image, the immediate fallout over the recall produced a 3% drop in Sony's stock, driving it to a one month low.4
Unusually Salient Poetic Justice
Reveling a bit in the unusually salient poetic justice of it all, Da Vinci Code opponents quickly noted that domestic box office sales for the blasphemous film totaled a mere $212 million.5This means that the recall could cost Sony all of its domestic Da Vinci Code gross intake.
This is particularly disconcerting for Sony, whose domestic revenue projections for the blasphemous film were in the neighborhood of $300 million.6 The film's poor domestic performance was particularly surprising due to the huge amount of free publicity the film received from media outlets, including newspaper articles, television and radio programs.
Opponents of the movie are convinced that the more than 2,000 protests held at theaters nationwide caused the film's poor showing.
"There is no doubt in my mind," said Rejecting The Da Vinci Code campaign coordinator Francis Slobodnik, "that our theater protests contributed to the lower-than-expected Da Vinci Code earnings."
Plagiarism lawsuits have been a further setback for Sony. Recently, a hefty $400 million lawsuit was filed against Dan Brown, Columbia Pictures and Sony by author Jack Dunn who claims the storyline of the blasphemous novel and movie was based largely on his 1997 book The Vatican Boys.7
Although, a previous suit filed by the authors of Holy Blood, Holy Grail was defeated and this one may be stricken down as well, these cases have further wounded Sony's image, and will cut more into the profits the company made by defaming Our Lord and His Holy Church.
A Lesson to Be Learned
The moral of the story is that blasphemy does not pay. That is not to say that blasphemy will always be financially ruinous, nor even that Sony will end up in the red once international box office and DVD sales are added to the equation. It is not to affirm that mysterious exploding batteries or crippling lawsuits were caused by Sony's attachment to blasphemy.
Nevertheless, the recent debacle surrounding Sony symbolizes a higher reality. It illustrates the principle that no one profits from sin. Regardless of the illicit pleasure or wealth one hopes to attain from vice, there is a God in Heaven, keeping a meticulous tally sheet, and in the end, He will make sure that the score is settled.
Footnotes