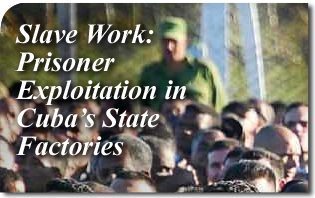 The Cuban state factory, Provari, makes a number of items, from bricks and mattresses all the way to artifacts and souvenirs for tourists and even insecticide.
However, as dissidents have denounced, most of their workers are "slave workers." They are prisoners who work unprotected and receive negligible salaries or no salary at all.
According to Elizardo Sánchez, head of the Cuban Commission for Human Rights and National Reconciliation, this prisoners' work "is not well known."
Perhaps this lack of knowledge stems from the general feeling that the island is a huge collective prison whose 11 million inhabitants can be likened to slaves of socialism.
Of course, this sensation is not shared by Fidel Castro's overseas "friends" — heads of state, ministers, theologians or simple admirers, at times former guerrillas who frequent the island-prison but only see "slave work" in their own countries…
According to a leaflet put out by Provari itself, in 2001 it had 150 factories. Sánchez says it now basically operates in 200 Cuban prisons and concentration camps.
Inmate work is a common staple around the world, and when performed in dignified conditions contributes to the prisoner's regeneration, provides resources to his family, helps him learn a profession and later reintegrate into society in a dignified manner.
Prisoners in the United States produce license plates, furniture and a lot more. "In principle there is no objection for companies to utilize prisons as factories," says Andrew Coyle, professor at the International Center for Prison Studies in London. But prisoners must receive salaries and be given proper working conditions. "It must not be hard labor or slave work," he added.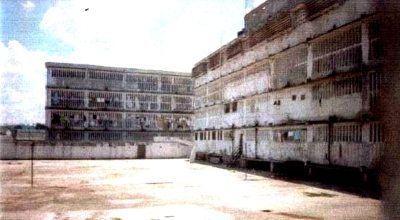 This, says Sánchez, is precisely what is absent in the Cuban dictatorship, where the Communist government can do anything and keep it secret. That includes exploiting prisoners at will and punishing anyone who complains.
Sánchez said that workers in prison-factories and land reform settlements seldom wear protective clothing when dealing with chemical products; sugarcane cutters rarely wear boots to protect their feet from machetes.
Again, while the Brazilian friends of the Castro dictatorship turn a blind eye to these typical cases of slavery, in Brazil they severely punish with the expropriation of property what they see as analogous cases. The blatant contradictions of Brazilian socialists are both anti-Brazilian and inhumane.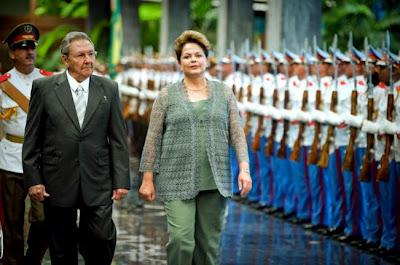 Cuban officials exploit common prisoners in fear that political prisoners make public their working conditions. However, independent journalists who managed to contact prisoners have published several stories about these prisons.
In 2010, journalist Jorge Alberto Liriano Linares denounced that 16 prisoners had suffered serious accidents in the Provari factory at Kilo 8 Prison in Camaguey. "The prisoners in this murderous factory are forced to work without pay, clothes, shoes or gloves," he wrote.
The International Group for Corporate Social Responsibility reported in 2010 that a factory at Prison 1580 near Havana obliged prisoners to work 12-hour days to make construction blocks but they seldom received the promised stipend of $10.00.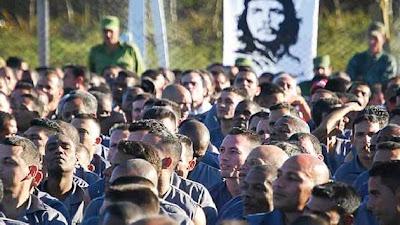 On the other hand, according to the official newspaper Granma, there are on the island 57,337 prisoners, of whom 31,494 are inmates and 25,843 are able to come and go, reported the Madrid daily El Mundo.
In flagrant contradiction with international denunciations, the Cuban government unabashedly claims that its prison system protects human rights.
"In spite of economic difficulties," Granma states, the prison system respects "basic rights."
Even left-leaning organizations such as Amnesty International have denounced Raul Castro's government for systematically repressing political opponents.
Repression of anti-communists in Cuba recently attained a climax during the visit of H.H. Benedict XVI and his delegation with help from the Cardinal Archbishop of Havana, Most Rev. Jaime Ortega.