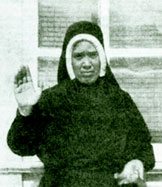 The news of Sister Lucy's death caused deep emotion in the devotees of Our Lady of Fatima across the globe. She was the last remaining seer of the apparitions of Our Lady at Fatima in 1917, the greatest supernatural happening of the twentieth century, and one of the most important events in the history of the Church.
Together with her cousins Jacinta and Francisco, Lucy was chosen by Our Lady to receive important messages and communicate them to the world. At that time, she was only 10 years old. In these messages, Our Lady explained the reasons for today's moral crisis and told people to stop offending God and do penance for their sins. Moreover, Our Lady predicted catastrophes if her message was not heeded. From every viewpoint, by the nature of their content as well as the dignity of the Messenger who brought them, the revelations of Fatima surpass all other times when the Holy Virgin has revealed to man the imminence of the great storms of history.
Sister Lucy's privileged status as an echo of Our Lady was made clear in the second apparition of Fatima in June of 1917, when the Blessed Mother told her that she was to remain in the world because "Jesus wishes to use you to make me known and loved. He wishes to establish in the world devotion to my Immaculate Heart."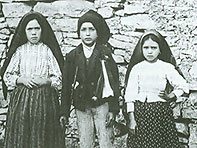 In July 1917, Our Lady told Lucy and her cousins a three-part secret, which consisted of a vision of Hell, important messages for the Pope and revelations about future events. The Blessed Virgin foretold the coming of World War II and that Communist Russia would spread its errors throughout the world. She warned that if mankind did not stop offending God, a terrible chastisement would come where many nations would be annihilated.
The huge responsibility to spread Our Lady's maternal warnings to the world weighed heavily on Lucy's shoulders, particularly after the death of her cousins. The period after Our Lady apparitions until her entering the convent as a Dorothean Sister in 1928 was a time of great suffering for Sister Lucy. In 1946, she decided to become a Carmelite nun in Coimbra, Portugal.
Throughout her long life, Sister Lucy always conserved the words of Our Lady in her heart. The figure of Our Lady was always present in her mind and she used to say that no statue could capture the Virgin's beauty.
In the wake of Sister Lucy's death – a moment of mourning and hope – all devotees of Fatima should renew their resolve to live and spread the Fatima message. The Fatima message is the solution for a world that suffers terribly from having turned a deaf ear to Our Lady's urgent call to conversion. It is also the source of great hope, for Our Lady promised at Fatima not just victory, but a resounding triumph when she said: "Finally, My Immaculate Heart will triumph!"