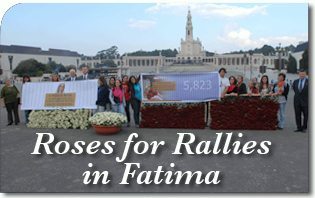 As we made our way to the main square in front of the Basilica of Fatima on October 13, we couldn't help but reflect upon the gravity and symbolism of our mission: to deliver nearly 6,000 red roses and 2,000 white roses, each representing a Rosary Rally Captain and Rally Sponsor respectively. All the prayers and hard work of participants in America Needs Fatima's Public Square Rosary Rally campaign were to be presented symbolically to Our Lady where she appeared and performed the Miracle of the Sun 93 years ago.
In the midst of such a worldwide rejection of the Faith, the Ten Commandments, the breakup of the family, and so many other evils, 5963 faithful Catholics organized rallies of devotees to Our Lady who are willing to say "YES!" to Our Lady's requests of prayer and penance at Fatima.
A group of young Portuguese graciously agreed to help us arrange the 8,000 roses on three large wooden grates. With this group of about a dozen, plus the four of us, it took a half an hour to arrange everything in front of the shrine.
After taking a group picture, we took the roses and left them at the Chapel of Apparitions in front of the main Basilica, the exact spot where Our Lady appeared. We then went up to the Basilica, where Blessed Francisco and Jacinta are buried, and prayed a rosary for all the Rosary Rally Captains and for the preparations for next year's rallies.