"God arises; His enemies are scattered, and those who hate Him flee before Him. As smoke is driven away, so are they driven; as wax melts before the fire, so the wicked perish at the presence of God."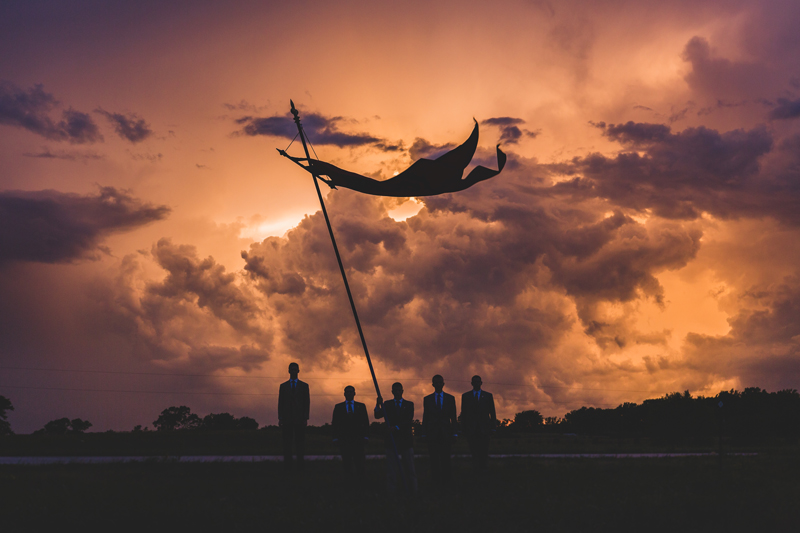 On June 20, these words rang out as the former bishop of Kansas City-St. Joseph, Bishop Robert Finn, together with Lincoln's diocesan exorcist, expelled all evil spirits from Nebraska's capitol area.  The exorcism was in response to the announcement of a Luciferian march for a one-world government scheduled at the capitol at four o'clock in the afternoon.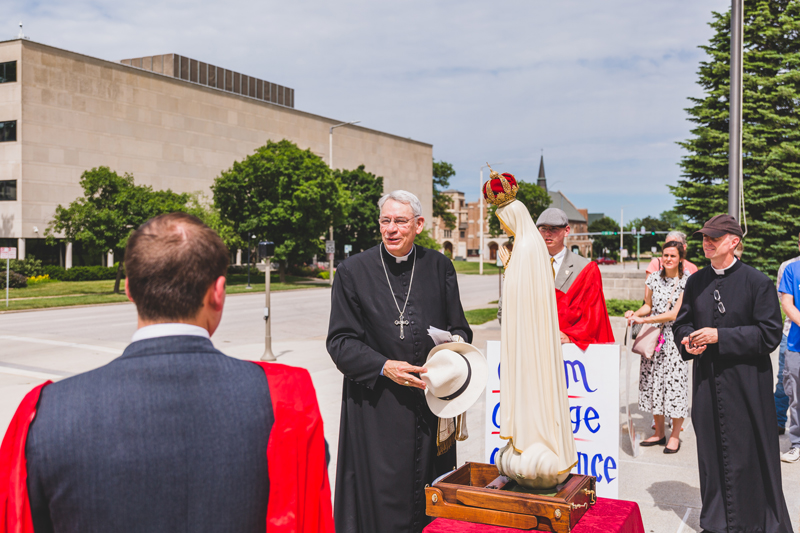 An hour before this ceremony, a rosary rally took place nearby, calling for America's return to order. This rally is part of a nationwide campaign of the American Society for the Defense of Tradition, Family, and Property (TFP). Traveling groups of TFP volunteers hope to hold rosary rallies at all 50 state capitols. Together with friends and supporters, they will pray for the much-needed graces of calm, courage and confidence in this time of crisis.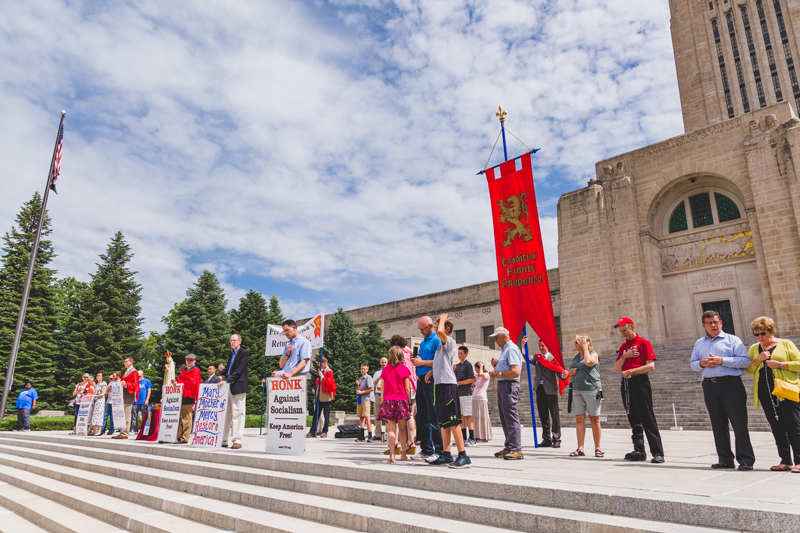 The Lincoln rally was blessed with the presence of the International Pilgrim Statue of Our Lady of Fatima, which miraculously shed tears in 1972.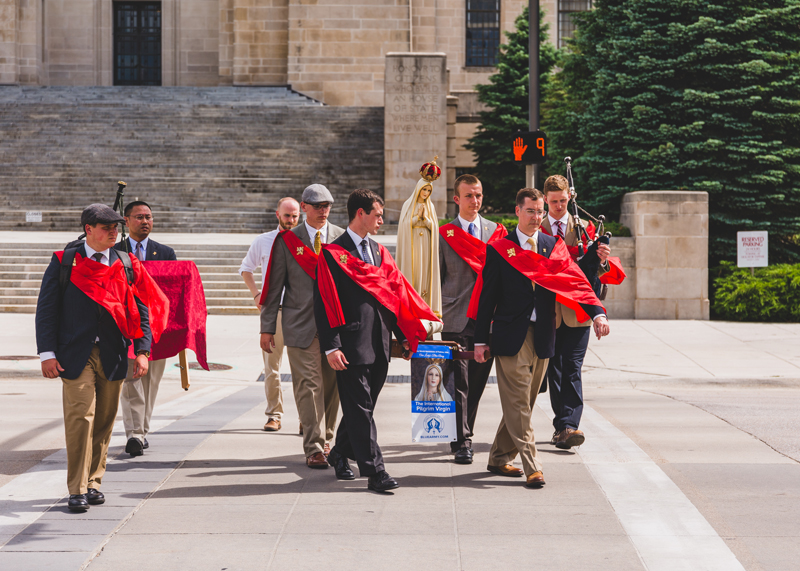 The prayers were sorely needed. The site of the rally showed the signs of the mobs who had just assaulted the capitol building. The area was scarred by bullet holes, graffiti and boarded-up windows near ground level. Amidst the chaos, fifty policemen mobilized to defend the capitol building against the anarchists.
In the shadow of this recent violence and the announced Satanic march, a return to order becomes ever more relevant. One shady-looking man, showing "concern" for the rally attendants, drove by and notified them that the Satanic gathering would begin "later than planned."
Meanwhile, a priest was glad to lead the rosary, and the faithful fervently prayed. One man brought his family to take part in what he called a "once-in-a-lifetime chance."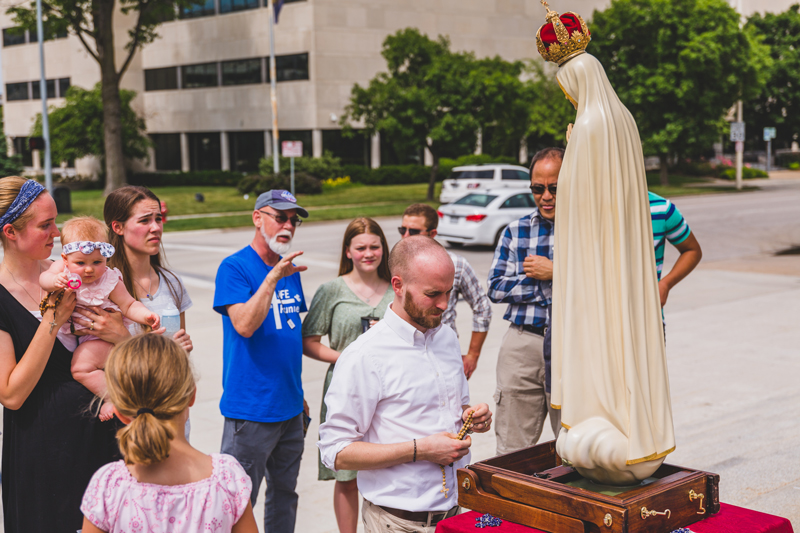 "The world is very chaotic with all of its problems and sins," another person exclaimed. "This is what we need: prayer to Our Lady!"
When the time scheduled for the Luciferian march arrived, Bishop Finn emerged from a nearby house and walked down the sidewalk toward the rosary rally. He thanked the faithful assembled and gave them his blessing. Many followed the bishop across the street to join the bishop's public exorcism outside of Saint Mary's Church.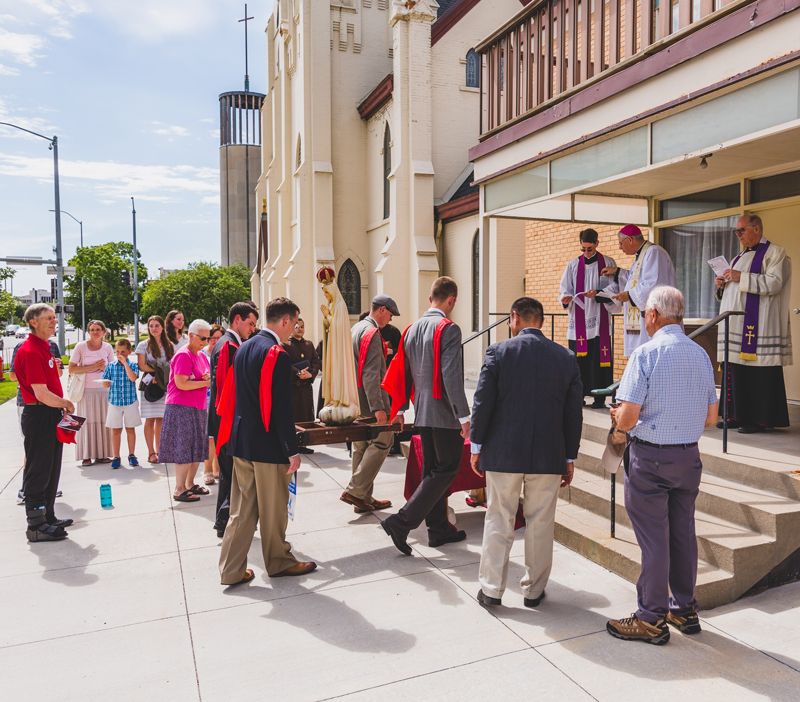 To see a prince of the church publicly command the devils to leave was remarkable. Especially fitting was the part of the exorcism that read, "Pray therefore the God of Peace to crush Satan beneath our feet, that he may no longer retain men captive and do injury to the Church."
At the end of the exorcism, it was apparent that God and the Blessed Virgin Mary triumphed over evil that day. The Luciferian march did not materialize. In many other cities where marches were announced, no one showed up.
At a time of much demonic activity, the TFP members are grateful to Bishop Finn for his zeal in combatting the Father of Lies. May the angels intercede for America. As the exorcism states, "That Thou may crush down all enemies of Thy Church: We beseech Thee to hear us."