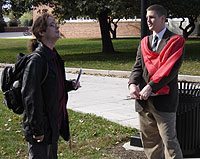 TFP Student Action visited Gettysburg College, October 17. What was the issue of the day? A campaign against Dan Brown's blasphemous book, The Da Vinci Code, and Columbia Pictures' plan to turn it into a movie.
TFP volunteers were ready to go as their van rolled into historic Gettysburg at 9:45 a.m. Minutes later, they were set up near the campus dining hall, starting off with a prayer as customary. Then the bagpipes sent their melodic echoes rolling far across campus, informing students of the event.
Some students joyfully remembered the TFP from a previous campaign: "Oh! It's you guys again. What are you passing out this time?" Others simply walked by with an amazed look on their face. Those who stopped to debate soon found out that nothing can stand in the way of truth. A few angry yells were also reported coming from liberal students who resorted to foul language, which was either incoherent or unmentionable.
A good number of students added their names to the TFP's protest petition – which already surpassed the 45,000 mark – addressed to Columbia Pictures. "Where do I sign? My friend told me you're collecting petitions against The Da Vinci Code movie," said one student. "I want to sign!"