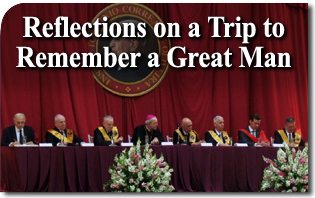 It has been more than a month since the twentieth anniversary commemoration of the death of Professor Plinio Corrêa de Oliveira. Looking back on the event, it is good to reflect upon all that happened. I would be greatly remiss if I did not give my personal view by sharing a few details about such a tremendous event in the annals of Catholic, international and Brazilian history.
TFP members, supporters and friends from all over the world traveled to Brazil to remember and honor this great Catholic leader. This event also provided the opportunity to renew commitments to the lofty goals and ideals promoted by Professor Plinio Corrêa de Oliveira.
What were these goals and ideals? To serve as faithful members of the Church Militant, soldiers of Our Lady and the Catholic cause by opposing and defeating what Prof. Plinio called the Revolution, which is the source, directly or indirectly, of just about every evil that has befallen mankind since the end of the Middle Ages.
The Revolution's general is Lucifer. His lieutenants are those pseudo-elites and others who have created systems and customs that attempt to destroy Christian civilization.
The general of the Counter-Revolution is Our Lady, the Blessed Virgin Mary. Her lieutenants are authentic elites and all those engaged in the restoration of Christian civilization.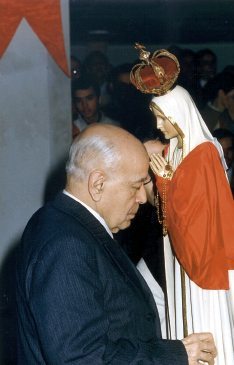 Some of Our Lady's lieutenants were present and participated in this commemoration. All of them would undoubtedly say that they would not be Our Lady's lieutenants if it were not for the inspiration and direction of her great captain, Professor Plinio.
Her foot soldiers were also present. They are serious Catholics who believe in and practice the Ten Commandments and who follow the doctrines of the Holy, Roman, Catholic and Apostolic Church.
Professor Plinio's entire life was dedicated to understanding the Revolution in its myriad facets, its incremental assaults and its giant leaps. More importantly, his life was dedicated to fighting and defeating this Revolution and, through an unwavering fidelity, to help usher in the triumph of the Immaculate Heart of Mary as foreseen at Fatima.
I joined a group of a little over forty American TFP supporters and friends who traveled to Brazil for these commemorations.
We first traveled to Rio de Janeiro, which Prof. Plinio recommended that visitors see to get a notion of the real Brazil. Today many people think of Rio as a party city. Sadly, this is certainly true today. However there is a strong Catholic past in Rio. That is what we wanted to experience. From the breathtaking natural beauties such as the Sugar Loaf Mountain and Guanabara Bay, to Christ the Redeemer, Rio was a tremendous inspiration. Imagine a city watched over by a magnificent Statue of Our Lord, Who seeks our redemption even when we do not desire it because of our sins.
We visited Our Lady of Glory of the Hill, a small but highly significant chapel overlooking the bay. We also visited Our Lady of Mount Carmel, the Old Cathedral and where members of the Brazilian Imperial Family were baptized and married. Our Lady of the Purification Church was incredibly stunning and large. It was built in fulfillment of the promise of a couple saved from a storm at sea by Our Lady.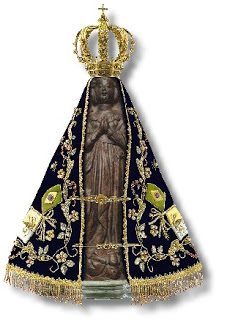 From there, we visited the Basilica of Our Lady Aparecida, the second largest basilica in the world, second only to Saint Peter's in Rome. This is the national shrine of Brazil. The small beautiful statue of Our Lady Aparecida has been and continues to be the source of many miracles. There is even a museum in the lower floor with artifacts and stories of her miracles.
Millions flock to visit this shrine every year. However, the crowds were not too large on this Monday which enabled us to pray a rosary together before Our Lady's statue. Throughout our stay in Brazil, if we told people we had been to visit Our Lady Aparecida, their faces immediately lit up with admiration.
From Aparecida we traveled to Sao Paulo. Fortunately for us our hotel was right next door to the principal office of the Plinio Corrêa de Oliveira Institute called the Seat of the Reign of Mary. This old colonial building was the site of Prof. Plinio's office and the place where he gave many meetings and presentations over a span of decades. Every beautiful detail of the office has a history and is an object of great inspiration and Catholic beauty.
Here is just one example: there is a beautiful statue of Our Lady of Mount Carmel on the ground floor. This statue was thrown into a river by some progressivist nuns decades ago. A priest rescued the statue and gave it to Prof. Plinio who placed the statue in a place of honor.
Each morning in Sao Paulo we had the pleasure of hearing three conferences. The conferences were given by some of the earliest colleagues of Prof. Plinio. One of those who addressed us was a cousin of Prof. Plinio, Dr. Adolpho Lindenberg. We also had the incredible honor of being addressed by the Prince Imperial of Brazil, Prince Bertrand of Orleans-Braganza. From their first-hand accounts we learned all about the life of Prof. Plinio, from his youth to his death, including his heroic sacrifices and tremendous trials.
We learned also about the crisis in today's world and, most sadly, within the Church.
Twice we had the opportunity to publicly pray a rosary at the site of his grave in union with so many others.
In the afternoons we were able to visit some of the extraordinarily beautiful churches in Sao Paulo including Our Lady of Mount Carmel, Our Lady of Consolation, the Sacred Heart of Jesus and Saint Therese. We also visited the Conceptionist Convent to venerate the relics of Saint Anthony Galvao, the first canonized Brazilian saint. We had the opportunity to visit the private residence of Professor Plinio Corrêa de Oliveira.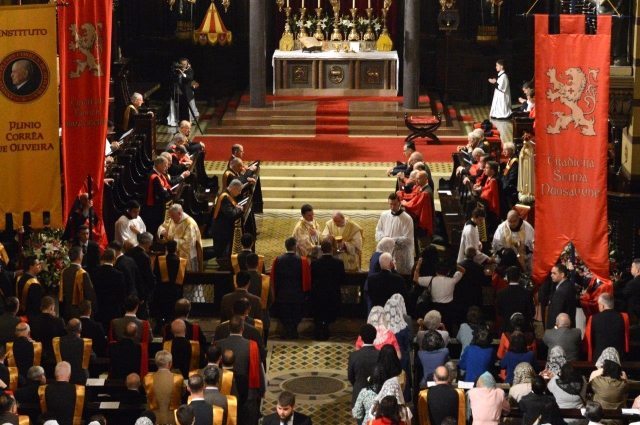 On Saturday, October 3, the twentieth anniversary of his death, a Pontifical High Mass was offered in the magnificent church of the Saint Benedict Monastery. This Mass was celebrated by the Most Reverend Athanasius Schneider, Auxiliary Bishop of Astana (Kazakhstan). In attendance were His Imperial and Royal Highness, Prince Luiz of Orleans-Braganza, his brother Prince Bertrand of Orleans-Braganza, His Highness Duke Paul of Oldenburg with his two sons, and the many hundreds of faithful filling the church to overflowing.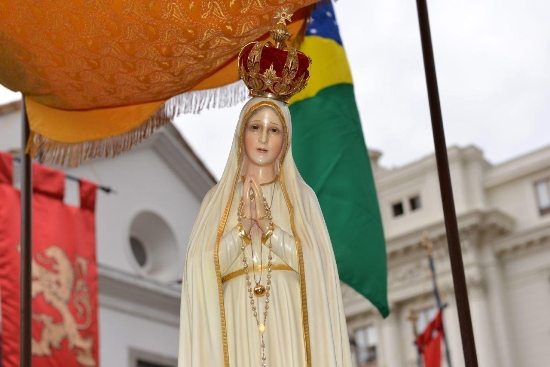 This holy and august celebration enfolded under the maternal and majestic gaze of the Queen of Heaven and Earth who graced those present with the miraculous statue of the International Pilgrim Virgin of Our Lady of Fatima.
After Mass, a procession marched through downtown Sao Paulo, led by Our Lady. A rousing bagpipe and marching band accompanied and inspired the procession and got the attention of the general public.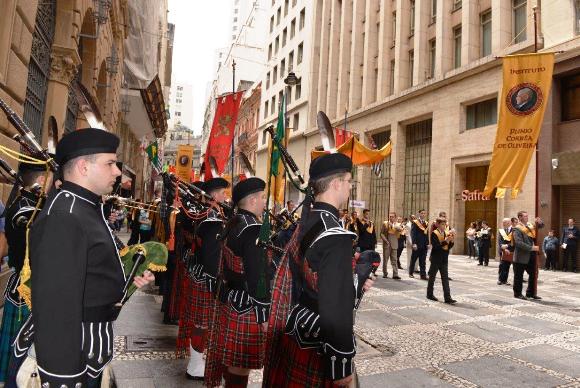 On the evenings of October 3-4, there were presentations at the Club Homs in Sao Paulo by the director of the newly established TFP in Holland, a Lithuanian, several directors who knew Prof. Plinio and America's own John Horvat, author of Return to Order.
It was incredible to join TFP members, supporters and friends from all over the world including: Brazil and most, if not all South American Countries, the United Kingdom, Ireland, France, Germany, Italy, Austria, Spain, Portugal, Poland, Hungary, Lithuania, Estonia, Holland, South Africa, Mexico, Canada and the United States.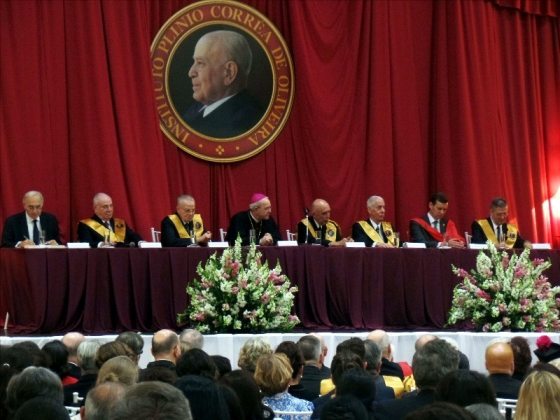 Besides the excellent speeches, an incredibly well made documentary was shown with excerpts of some of the numerous activities of various TFP's throughout the world. This video presentation was overwhelming in its scope. All of these actions took place as a result of the inspiration of Professor Plinio Corrêa de Oliveira.
Our Brazilian hosts, gracious beyond words, made our trip memorable in every way.
I am confident that all who had the honor of attending these magnificent events returned home more inspired than ever to not only continue the fight for Christian civilization and the Reign of Mary, but also to increase their efforts with even greater fidelity and dedication.