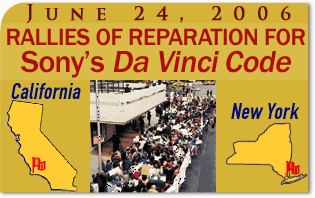 When Sony Pictures turned The Da Vinci Code book into a movie, Americans nationwide responded with acts of reparation and protest. Now, after over 2,000 protests in front of theaters, the American Society for the Defense of Tradition, Family and Property (TFP) and its America Needs Fatima campaign are planning rallies of reparation at Sony headquarters in New York City and Los Angeles.
On June 24, activists from across the country are expected to gather at the two locations to voice their concern and outrage to the corporate entertainment giant in two huge final rallies. The American TFP is lining up speakers and a reparation program for the events.
The Sony rally on Madison Avenue is a culminating point of the American TFP's long fight to reject The Da Vinci Code in both its book and film versions.
A Long Campaign Against Blasphemy
Indeed, as soon as the media turned the discussion of the novel into a theological debate, the American TFP entered into the fray.
In 2005, it published the hard-hitting book Rejecting the Da Vinci Code: How a Blasphemous Novel Brutally Attacks Our Lord and the Catholic Church. The TFP campaign later sent Sony Pictures nearly 105,000 postcard protests. The American TFP web site also sent thousands of e-protests to the corporation. Young people from TFP Student Action brought the issue to the campuses.
In anticipation of the film's release, the TFP helped over 1,000 local grassroots organizers put together one or more of their own protests. Through these efforts, many decided not see the film. The over 2,000 protests let the other side be heard, making it very clear that blasphemy is offensive to countless Americans. Protests helped destroy the media myth that everyone favored The Da Vinci Code's screening.
On June 18, the American TFP is also organizing a national hour of Eucharistic adoration in reparation for The Da Vinci Code's blasphemies. Calling upon heavenly aid in this struggle, the vigil will be held at 5:00-6:00 P.M., on June 18, the feast of Corpus Christi. The TFP hopes to have thousands of Catholics involved in their own hours of prayerful reparation, either alone or in groups large and small. (Click here to register)
A Message to Sony
Finally, the American TFP is promoting the Sony protest in Los Angeles and New York. The events will allow Catholics to express the sincere outrage they feel, caused by the insults against Our Lord Jesus Christ and His Church.
Speakers include Chicago's pro-life activist Joe Schiedler and others yet to be announced. Invitations have been published in six newspapers in what may be the largest protest and rally of reparation ever seen in New York.
The rally hopes to send to Sony the message that blasphemy is neither entertaining nor acceptable.