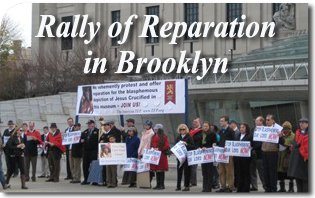 Rally of reparation against blasphemous "ants crawling over Jesus video" at Brooklyn Museum of Art.
Members of TFP-America Needs Fatima gathered in front of the Brooklyn Museum of Art on Nov 20, to offer Our Lord a public act of reparation against a video called "A Fire in My Belly", produced by homosexual David Wojnarowicz, who died of AIDS in 1992.
The video has a blasphemous depiction of Our Lord Crucified in which ants crawl over a crucifix.
The Rosary was prayed, hymns were sung and participants held up signs to express their categorical rejection of this blasphemous video.
This video has sparked a nationwide controversy that has led to its removal from the Smithsonian last year after a huge uproar from the American public.