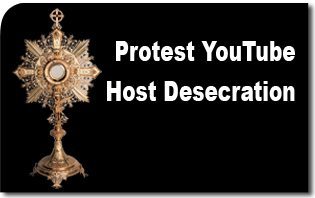 Consider taking three minutes to sign a petition to the popular video sharing site YouTube in protest to a sacrilegious video in which a sacred Host is deliberately crushed, burnt and stomped on. Perhaps the worst is desecrating the Eucharist by smoking Jesus' body.
It is followed by this statement: "Eucharist desecration. You Catholics are truly going to love this one. More is on its way."
It is posted on YouTube by user name antieucharist. It shows people in a mock Catholic ritual "drop" the Holy Eucharist, wrap it in paper, burn it and finally stomp on it.
Access with caution:  http://www.youtube.com/watch?v=p9LEtAEuWGI
Beneath the offensive video are a series of viewer comments about Desecrating the Eucharist by smoking Jesus' body.
One person tried to excuse the desecration:
"I know you are just kids having fun, but you do not understand what you are doing. I made fun of the same thing when I was a teen."
Although it is not known for sure if this is a Consecrated Host, the YouTube user antieucharist replied to the comment indicating his intent:
"…you are incorrect. We are not kids just having fun. We are fully aware of what we are desecrating."
The American TFP hopes to mobilize hundreds of thousands of Catholics immediately in a massive peaceful, pious and prayerful e-protest.
If tens of thousands of Catholics pray and speak up, there is a chance YouTube will enforce its policy and remove these sacrilegious attacks on the Holy Eucharist. YouTube policy says:
"We encourage free speech and defend everyone's right to express unpopular points of view. But we don't permit hate speech …"
And what is desecrating the Holy Eucharist but "hate speech?"
Please be polite yet firm when speaking to people at YouTube.
YouTube Contact Information:
YouTube, LLC
901 Cherry Ave.
San Bruno, CA 94066
Phone: 650-253-0000 –  then press O to talk to a live person 
Fax: 650-253-0001
Email: [email protected]
[email protected]
[email protected]