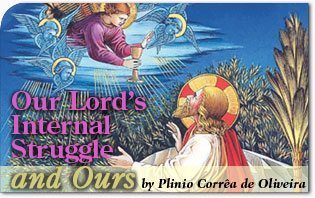 The following text is an excerpt from a lecture given by Professor Plinio Corrêa de Oliveira on March 31, 1984. It has been translated and adapted for publishing without Prof. de Oliveira's revision. –Ed.
There are five sorrowful mysteries of the rosary. Each represents a different aspect of Our Lord's Passion. Rather than comment on all five, I prefer to speak only of the first and develop it in a detailed manner.
Our Lord's Agony in the Garden
In Latin, the first sorrowful mystery is called the: Oratio in Horto, meaning the "prayer" in the garden, while in English it is named the Agony in the Garden. The word agony comes from the Greek word meaning "fight." Thus, this mystery could be aptly termed the "fight" of Our Lord in the Garden of Olives.
The evening of Our Lord's agony began with the Last Supper and institution of the Blessed Sacrament. Afterwards, Our Lord left the Cenacle, singing the Pascal Hymn with the Apostles and approached the garden.
Joy, Laced with Sadness
These events are commemorated in the Church during Holy Thursday Mass. The ceremony is festive, but imbued with a mounting sadness. After Mass, the Sacred Species are placed in a wooden tabernacle and adored only in this "Sepulcher" until Holy Saturday.
This represents the retreat of Our Lord's soul. Though He left supper happy, having just established the Church and given Our Lady, her first communion, His happiness was darkened with sadness. Judas was shortly to betray Him, His Passion was approaching and His surroundings were melancholic compared to the evening's earlier events.
Leaving the Cenacle, He greeted His Mother for the last time until they would meet on His way to Calvary, when she would stay at His side until His death. After this sorrowful separation, He went alone to accomplish His mission. The Apostles had only a vague notion of all this, as they fell asleep. Then, the prayer, agony and fight in the Garden began.
Our Lord already knew that Judas had sold Him; that the Jews and Romans were coming to arrest Him; and that His Passion was beginning. He knew the extent of his aborning physical and moral torments. He measured individually the ingratitude, wickedness, injuries, coldness and perversities that would occur on the long road to Calvary. He considered the pains His mother would endure because of all this. He had compassion on the holy women who would suffer at His sight. He suffered, seeing every sin of History and how ungrateful humanity would abuse everything he was about to do.
What Use Is There in My Blood?
Indeed, the following Psalm aptly summarizes His thoughts on that evening: "Quae utilitas sanguine meo?" (What use is there in my blood?) He considered all those who would burn in Hell for all eternity because they would refuse to love Him and His anguish multiplied.
He also saw the torments His Sacred Body would endure. He foresaw how It would be disfigured. He envisaged the evil that He would face, and accepted everything. He faced these torments, saying: "I have seen everything that I must endure, and I want it all! If this is the price of fallen humanity, I will pay it!"
However there were other considerations mounting within Our Redeemer. Since His humanity was perfect, His instincts were upright and strong. Thus, His instinct of self-preservation was unequaled. The thought of His aborning Passion and death overcame Him. His body was seized with panic and His human soul became afraid.
As the sinister vision of what was to come impressed itself upon Him, scripture tells us that He experienced a sort of heaviness and terror, while the tide of sadness rose within Him.
Though He was fully committed to do the Eternal Father's will and never vacillated, His humanity recoiled at the prospect of what was to come. His sacred lips opened like a flower and He prayed with unfathomable sweetness, identifying as "Father," He Who was asking Him to pay such a terrible ransom. He said: "My Father, if possible let this chalice pass from me, but let Thy Will, and not Mine, be done."
What does He mean by saying: "if it be possible?" Being divine, Our Lord knew perfectly well this would be impossible. However, His humanity still clamored: "I do not see how I can confront this, but I will it if Thou doth will it."
Then an angel appeared and offered Him a chalice with a liquid to console and strengthen Him. Fortified, He recomposed Himself and arose, ready for the sacrifice. However, His holocaust was so great that He, the God-man, started to sweat blood and the Redemption began.
Our Lord Regains His Strength
Meanwhile, Our Savoir went to the place of His arrest quickly, proudly and on foot. His bearing was such, that, when asked if He were Jesus of Nazareth, He responded: "Ego sum," (I am He) with such strength and grandeur, that His captors fell prostrate on the ground.
Still, His sufferings were augmented by the Apostle's abandonment. Three times, He had looked to them for consolation and three times they preferred to sleep. He complained: "Could you not watch one hour with Me?" The tepid Apostles slept on through the event that all the saints of History, past and future, have contemplated and will contemplate with veneration, until the end of time.
It was not important to them, they preferred to dream rather than contemplate the mysteries that were unfolding before them. Much less did they want to participate in His sadness. They could not bear it. Consequently, Our Lord remained alone to fight against the just terror that rose within Him.
This terror was perfect, but His reaction to it was also perfect. Thus, He dominated His fear. He faced it like a victorious warrior.
The Romans and Jews came against Him and Judas' fetid lips worked their treason. In all this, Our Lord remained standing. He was like a soldier Who had triumphed during that moment in the battle upon which the outcome hinges.
Our Lord's Fight and Ours
While it is absurd to imagine that the God-man could have been defeated, for argument's sake, let us imagine that fear had dominated Him. If He had said: "I have had enough. There will be no Passion or Redemption," his whole life would have been a failure. Everything hinged upon His ability to conquer Himself. His triumph was a result of this victory.
We, too, must fight against ourselves at every moment of life, from birth to death. While Our Lord's fight was a battle of perfections, within us, malice, imperfection and the effects of original sin rise up like a colony of ants that continually strives to swarm and overcome us.
Facing Struggles Head on
To succeed in this battle, we should never shield ourselves from coming sufferings. Doing so makes us incapable of facing them and concedes half the battle.
Rather, we must measure our trials in advance, difficult though they may be, and beseech Our Lady for help. Paraphrasing the words of Our Lord, we should pray: "My Holy Mother, Mother of God and my Mother, if this chalice is necessary, I want to drink it to the end. Above all, I want to do thy will. If this means suffering, I want to suffer." With this spirit, we will conquer one victory after another.
For example: To effectively maintain chastity, we should consider all that this will cost us and accept everything. If we are afraid, we should remember that every soldier is frightened before the battle. We should imitate Our Lord, Who dealt with His fear in two ways.
First, He offered Himself to God. Then, He humbly asked that His sufferings be lessened in any way possible, always reaffirming His willingness to do the divine Will. Through this prayer, He gained the necessary strength to accomplish His mission and rose from the ground like a giant, like a sun.
Do I Imitate the Apostles?
Contrarily, we often lack the courage to face our sufferings head on and thus imitate the Apostles, who refused to watch with Our Lord. This is not merely figurative. On Holy Thursday night, all humanity passed individually before Our Lord's eyes. He saw each of us, and our defects made Him suffer.
That is why we should often repeat the penitential Psalm: "Misere mei Dei, secundum magna misericordiam Tuam." (Have compassion on me Lord, through Thy great mercy.) We should beseech Our Lord's mercy, remembering that we caused Him to suffer, we made His sadness sadder; we made His agony harder. When we have the slightest load, we look for someone to lighten it, but all the while, we add to His immense burden. O Mother of Mercy, obtain pardon for us!
A Remedy for Our Weakness
However, we should not lose confidence or be surprised when we feel our insufficiency. When Our Lord felt weak, He prayed to the Eternal Father and obtained supernatural strength, which all men need to remain faithful amid the struggles of life. We must pray to Our Lady to obtain this strength. We must acknowledge our nothingness, but realize that through her intercession, we can do anything. Then, we must embolden ourselves, get up and push ahead. Sooner or later, Our Lady will grant us victory and we will arise like Our Lord and confront the danger. We will face it head on and say: "Ego sum!" (I am he!)
Someone could object, saying: "Even if I face my sufferings, they will not fall prostrate before me. When the martyrs proclaimed 'Ego sum!' the whole world laughed and spectators happily watched as beasts devoured them."
This is true. Nevertheless, centuries later the victory came and the Roman emperor fell prostrate before the cross.
We may have very difficult battles, but if we face them head on and beseech Our Lady's assistance, sooner or later, the enemy will fall prostrate. When this happens, our blood, sweat and tears will have been crowned with victory.