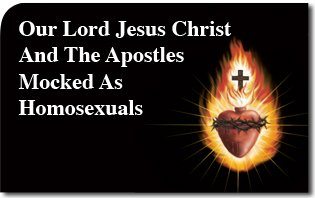 Our Lord Jesus Christ and the apostles to be mocked as homosexuals in the blasphemous play Corpus Christi.
Please join The American TFP in protesting the blasphemous play Corpus Christi that is scheduled to start showing at the San Pedro Playhouse in San Antonio, Texas.
According to the press reports, Corpus Christi includes a Christ-like figure that has homosexual relations with his apostles! Besides, the play uses Gospel passages in a contrived way. The New York Post, for example, reported:
'"Art Thou King of the queers?' McNally's Pontius Pilate character asks. 'Thou sayest,' Joshua answers."
You now have a unique chance to defend Jesus' honor by peacefully, but loudly raising your voice against this blasphemy.
Although funded mostly through private donations, the San Pedro Playhouse receives some money from the City of San Antonio, through its Office of Cultural Affairs.
For this reason, a copy of our protest message will be sent to the City of San Antonio as well as to the San Pedro Playhouse.
We protest – as we always do – in a totally peaceful and prayerful way.   Also, please pass on this protest message to your friends and family.
And, above all, pray and offer sacrifice to the Sacred Heart of Jesus in reparation for this blasphemy.
CLICK HERE to read and pray your prayer of reparation to the Sacred Heart of Jesus.