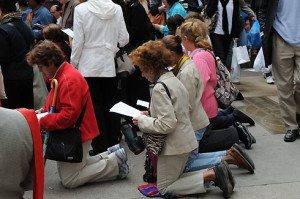 Read with caution:
THIS  MAY  DISTURB  YOU
Satanic video promotes homosexual vice, casual sex and sadomasochism to young people!
In response, please join the:
2010  PUBLIC  SQUARE  ROSARY  CRUSADE
According to reports, singer Lady Gaga recently released a video clip for her newest pop hit Alejandro. The video exalts homosexuality, casual sex and sadomasochism, while violently attacking the military.
Above all, the video attacks the Catholic Church.
The video is appalling — dancers wear underwear, stockings and high-heel shoes. Besides, the lead singer simulates, in bed, sexual activity with one of the dancers.
And besides such repulsive innuendos, Lady Gaga uses Catholic images in a very disrespectful and sarcastic way.
How can we Catholics fight back in a spiritual way?
By praying the Rosary. Because the Rosary has the power to counter and even defeat these awful sins.
That's why I urge you to become a rally captain in the 2010 Public Square Rosary Crusade.

According to the singer, the video was made to praise the homosexual community. And the disrespectful references to the Catholic Church are "justified" because of Its absolute opposition to homosexual vice.
Moreover, the video shows a shocking scene in which Lady Gaga wears a red habit and swallows a crucifix. She appears in many other shots wearing a templar's tunic while being carried by dancers, in an explicit exaltation of homosexual sin.
As if that was not enough, the singer often appears surrounded by crosses.
Lady Gaga is known for her eccentric ways. She tries to shock the public. This has attracted an ever-growing fan base, mostly composed of children and teenagers.
The offensive references to the Catholic Church are serious enough to spark a global, organized reaction of protest, prayer and reparation.
So is Lady Gaga's BAD influence on children. She harms their undeveloped and impressionable souls. Many of them are Catholics who get little or no guidance from their parents, or even from the Catholic schools.
 * * *  URGENT ROSARY RESPONSE NEEDED  * * *
That's why Catholics worldwide should fight back by praying the Rosary. Especially in public so other can see us praying and to know that we love God, His Holy Mother and our Catholic faith.
In fact, the power of the Rosary is so incredibly overwhelming that Saint Dominic used to say:
"Let me but place my rosary around a sinner's neck and he will not escape me."
Even the devils fear the Rosary, as you can read in this:
So, let's tap into the supernatural superpower that Our Lady has given to us as a weapon to defeat the terrible sins in Lady Gaga's video Alejandro.
That's the way for Catholics to spiritually break the grip of sin on our world