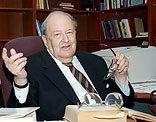 Thomas McKenna: Could you explain why homosexuality is so contrary to natural law?
Dr. Harry Jaffa: The first thing I think I should say is why I regard homosexuality as against natural law.
I challenge anybody who wants to defend homosexuality to say if they condemn slavery and genocide. Assuming they do condemn slavery and genocide (unless they are some kind of a Hitler) I think we would say that all would agree today that slavery and genocide are wrong.
However, as far as I can tell, the only ground on which they can be condemned is on the basis of nature. We do not speak of a rider enslaving a horse, or the farmer enslaving the ox who is pulling the plow. We do not speak of the slaughter of cattle in the Kansas City or Chicago stockyards as genocide. Why? Because these are animals of an inferior species, which we understand can be used for human purposes without violating any moral law.
That does not necessarily mean that people have a right to torture or do bad things to dogs, or cats, or horses, just because they are inferior. We have an obligation not to inflict unnecessary pain on all living things. However, the order of nature is such that some species, herbivores, only eat grain or herbs. Carnivores eat the herbivores and human beings eat both. This is not contrary to morality and seems to be part of the order of nature.
Thus, the distinction upon which we make these moral judgments is based on distinctions in nature, which we find in and are consistent with nature.
Of all the distinctions in nature from which morality can be inferred, nothing is more profound than the distinction between male and female, which runs not only for human nature but through all nature.
The word nature itself, both in Greek and Latin, refers to living things. The principle of life, in virtue of which a species perpetuates itself, is the distinction between male and female. If we look at this distinction as it occurs in the human species, we can see the principal of self-preservation at work.
First of all, this is seen in the fact that it takes male and female to have procreation. If we ask what is the origin of the very idea of a moral obligation or the recognizing of a beauty to another, we find it appears within the framework of human experience where two human individuals are responsible for the conception of a third. These two individuals may or may not have had any prior obligation to each other. However, they become obligated to each other by that conception.
Male and female as husband and wife become obligated to each other and to the unborn child. The child when born will have an obligation for many years after to the parents who are responsible for its coming into being.
How did this become that which we call the family? The family has its origin in the passion that united male and female in the first place and which extended to the offspring. However, the family extends yet further by including other siblings. As time goes on, the offspring also become parents and so we have children and grandchildren. We have uncles and aunts.
We find that the very essence of the family is preserved not only by the original passion, but by the exclusive nature of this passion. Incest is obviously incompatible with the very idea of the family since the sexual passion is also a jealous passion. We knew this before Othello and since Othello. There cannot be rival passions. Within the family, there can be no rivals for the affections of either husband or wife, either exogamous or endogamous. Adultery is forbidden on the one hand and incest on the other. This also extends to the relations of brothers and sisters. Both must look for their sexual relationships exogamously, not endogamously.
For the same reason, homosexuality is forbidden. You cannot have relations between two males or two females within the family, since it sets up a rival set of passions to that of husband and wife. Everything that can intensify the passion of husband and wife for each other corresponds to the prohibition of any other passion.
Mr. McKenna: Homosexuals claim two individuals of the same sex are entitled to marriage under the equal protection clauses enshrined in federal and state constitutions. Can you comment on how this opinion is unwarranted from the perspective of our Constitutional and Common Law tradition?
Dr. Jaffa: Certainly. The Equal Protection Clause of the Fourteenth Amendment was instituted along with the original clause which reads: "Persons born and residing in the United States are citizens of the United States and the state wherein they reside."
That statement was necessary because the Thirteenth Amendment abolished slavery but did not say that former slaves were citizens. Justice Taney in the Dred Scott decision had said that Negroes, whether free men or slaves, could not become citizens of the United States. Taney's dictum remained constitutional law until the Fourteenth Amendment contradicted it.
The Equal Protection Clause is designed to prevent freed slaves from becoming second-class citizens and, in fact, prevented the possible formation of different classes of citizens. That was the intention of the Equal Protection Clause.
The reason why slaves were entitled to freedom and free slaves to citizenship goes back to the principles of the American Republic which were announced to the world on July 4, 1776, which stated: "We hold these truths to be self evident, that all men are created equal." The Declaration of Independence is a statement on the meaning of the word nature and its bearing on Americans and human beings anywhere. In fact, it marks the first time in all human history where a people announced or demanded their right to independence not on the basis of their own unique qualities but on rights shared with all men everywhere. These rights are those whereby men may not be regarded as slaves or animals of an inferior species but as human beings who could be governed only with their own consent and not by an arbitrary authority.
The Equal Protection Clause had nothing to do with idiosyncratic qualities as represented by homosexuals. Some people are born with homosexual inclinations while others are born with an inclination to steal things. What is the word? Kleptomania. An inborn tendency to kleptomania or other such tendency, in no way justifies stealing. When people are born with dispositions to depression or other kinds of mental illness, we do our best to be kind and sympathetic and help them overcome the obstacles they face. However, it cannot become a norm for the behavior of human beings as such.
Mr. McKenna: Finally, Dr. Jaffa, those arguing for same-sex "marriage," frequently base their case on the notion that fundamental human rights "evolve" as we develop a better understanding of human liberty. Can you please comment on how all fundamental human rights are linked to unchanging human nature, how human moral liberty is not absolute or license and how it must conform to right reason?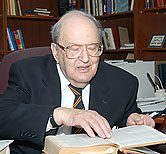 Dr. Jaffa: Regarding the question of human nature evolving, there is no evidence that human beings as possessed of certain faculties and powers have changed since the beginning of recorded history.
One of Leo Strauss's familiar sayings, which almost encapsulates his whole career, is that "any intelligent American has more in common with Socrates than Socrates had with any stupid Athenian." The difference between intelligence and stupidity has not been affected by the passage of time. Anybody would be rash and in fact very ignorant to suggest that the kind of human being who could participate in the plays of Sophocles or the dialogues of Plato was less intelligent than any American, even Leo Strauss today.
Perhaps we do not find the kind of genius which we associate with the peaks of Athenian or English culture. We can say that certainly we do not have any Shakespeares around. However, we do have people who can read Shakespeare. If they are sufficiently intelligent to understand exactly what Shakespeare meant when he wrote those plays, then they live on the level of Shakespeare.
That is why the study of the Great Books is the ultimate form of a liberal education. By confronting the greatest minds, we try to live our lives on their level. These authors may or may not be right about everything, but they were intelligent.
Thus the idea of an evolution of human nature is false. That is not to say that the human condition cannot be improved. It has improved time and time again in history. It has also retrogressed. There are peaks and valleys in human history.
Likewise fundamental rights are linked to unchanging human nature. Unalienable rights linked to human nature such as life, liberty, the pursuit of happiness and many other rights are the foundation of a just, civil society.
Morality is absolute. When the Declaration of Independence speaks of rights, it speaks of those with which we have been endowed by our Creator. Therefore, those rights can only be exercised, and understood as exercised in a manner consistent with the purpose of the Creator. We are bound by the laws of God to understand what are the liberties made possible on the basis of these rights. These rights did not come out of nowhere. They are an endowment, an inheritance.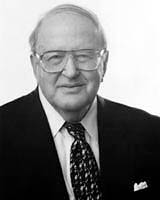 Harry V. Jaffa
Harry V. Jaffa is a distinguished fellow of The Claremont Institute. He is Professor Emeritus of Government at Claremont McKenna College and the Claremont Graduate School. He received his B.A. from Yale, where he majored in English, in 1939, and earned a Ph.D. from the New School for Social Research.
He is the author of numerous articles and many books, including his widely acclaimed study of the Lincoln-Douglas debates, Crisis of the House Divided: An Interpretation of the Lincoln-Douglas Debates (University of Chicago Press, 1959). His other books include Thomism and Aristotelianism (Greenwood Press, 1979); The Conditions of Freedom (Johns Hopkins University Press, 1975), How to Think About the American Revolution (Carolina Academic Press, 1978); American Conservatism and the American Founding (Carolina Academic Press, 1982); and, most recently, Original Intent and the Framers of the Constitution: A Disputed Question (Regnery Gateway, 1994).
Professor Jaffa has recently released the first volume of the sequel to his classic Crisis of the House Divided, titled A New Birth of Freedom (Rowman & Littlefield, 2000).
The Claremont Institute
The mission of the Claremont Institute is to restore the principles of the American Founding to their rightful, preeminent authority in our national life. To recover the Founding principles in our political life means recovering a limited and accounted government that respects private property, promotes stable family life and maintains a strong defense
By email: [email protected]
By phone: (909) 621-6825
By fax: (909) 626-8724
By mail: 937 West Foothill Boulevard, Suite E, Claremont, CA 91711