""""[vc_column_text]
URGENT ACTION REQUESTED!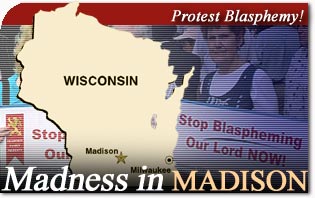 It has been six long years since playwright Terrence McNally first staged his play Corpus Christi in New York City. Since then, the work, which portrays Our Lord Jesus Christ and the apostles as homosexuals, has generated protests, local indignation and negative publicity at alternative theaters. Thousands of Catholics have come to Our Lord's defense with vibrant and moving acts of reparation. No major venue has dared touch it.
Since new plans to stage the play were made public, the American Society for the Defense of Tradition, Family and Property (TFP) and its America Needs Fatima campaign are gearing up for a nationwide protest against a March showing at the Bartell Theatre in Madison, Wisconsin.
"Those who promote this cruel play are so persistent," claims America Needs Fatima director Robert Ritchie. "We must show that we are just as persistent in our devotion to Our Lord."
The first stage of this peaceful and legal protest consists in sending protest post cards to the Bartell Theatre, expressing a complete rejection for the play. Similar cards are being sent to Madison's The Capital Times asking that their coverage of the play fairly represent Catholic indignation toward Corpus Christi. Finally, protesters are writing to the Mayor of Madison asking him to join the protest and consider how this play can only affect the city's reputation.
Tens of thousands of members are already participating in the first step. As in the past, America Needs Fatima will sponsor a massive rally of reparation at the Bartell Theatre if Corpus Christi is shown there in March.
"Protests definitely send a message to the community," Mr. Ritchie stressed. "We want everyone from the media to city hall to know that Corpus Christi is a non-starter."
To protest see below!
Send your instant e-protests.
Order free protest post cards
Send a donation to help this important campaign
Send this message to a friend
[/vc_column_text][/vc_column][/vc_row]