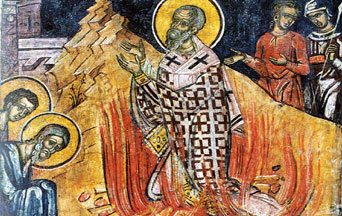 From the patience which the martyrs showed during their tortures, we should learn to suffer with holy resignation the crosses and afflictions of this life; poverty, sickness, persecution, insults, injustice, and all other evils, are but trivial when compared with their sufferings. The reflection that it was the will of God that they should suffer for His love was their only solace.
We also in our tribulations should remember the necessity of resignation to the Divine Will, and, calling to mind the more grievous sufferings of the martyrs, should blush to complain. Saint Vincent de Paul used to say: "Conformity to the Divine Will is a sovereign remedy for all evils."
It may be useful here to remark, with Saint Augustine, that it is not the torture but the cause which makes the martyr. Saint Thomas teaches that martyrdom is to suffer death in the exercise of an act of virtue. From which we may infer that not only he who by the hands of the executioner lays down his life for the faith, but whoever dies to comply with the Divine Will, and to please God, is a martyr, since in sacrificing himself to the divine love he performs an act of the most exalted virtue.
We all have to pay the great debt of nature; let us therefore endeavor, in holy prayer, to obtain resignation to the Divine Will to receive death and every tribulation in conformity with the dispensations of His Providence. As often as we shall perform this act of resignation with sufficient fervor, we may hope to be made partakers of the merits of the martyrs. Saint Mary Magdalene de Pazzi, in reciting the Glory Be to the Father, always bowed her head in the same spirit as she would have done in receiving the stroke of the executioner.
Excerpt taken from The Victories of the Martyrs, Introduction, p. 37.
Published in the November/December 2016 issue of Crusade Magazine.