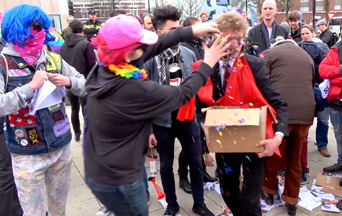 On March 11, the Dutch organization, Stichting Civitas Christiana, held a street campaign in Nijmegen, the Netherlands, directed against the sexually explicit advertising posters of clothing manufacturer Suitsupply. The demonstration immediately sparked a counter-protest by LGBT activists, who reacted with violence, insults and threats. The protest all happened under the watchful eyes of local politicians of the left and the police.
Stichting Civitas Christiana was established in 2014 to defend Christian civilization in the Netherlands. The current campaign was triggered by the complaints of many families that were offended by the posters and billboards of Suitsupply. The firm has been advertising for years with sexually explicit scenes. They first portrayed sadistic submission of women by men in suits, and now present kissing homosexual men in erotic poses.
Peaceful Protest and Violent Reaction
Thus, Civitas Christiana went to Nijmegen on March 11. A group of ten activists handed out flyers in a completely peaceful manner with the rosary as their only weapon. On their banners were the slogans: "Stop Suitsupply," and "God's marriage = 1 man + 1 woman."
Roughly 150 counter-demonstrators, many of them masked, arrived behaving in stark contrast to the Civitas Christiana activists. They soon showed their "tolerance" by spitting, grabbing flyers, breaking rosaries, and making obscene gestures. They also threw multi-coloured glitter in the face of the protesters.
LGBT Activists Disrupt Protest Against Homo-erotic Advertisements

One Civitas Christiana demonstrator got so much glitters rubbed in his face that his eyes were red and painful. Campaign leader Hugo Bos was also attacked with glitter, rainbow flags and other materials. The police were there, but did little to oppose the open aggression.
Collaboration of Politicians
Local politicians from many liberal parties including the PvdA, VVD, GroenLinks and D66 were present. One newspaper reporter asked protesters why they were there. A member of the D66 party explained that it was "Because we all want a Nijmegen where everyone can be themselves." With some irony, the reporter added: "Behind her back were people with a different opinion that they wished dead."
Among the politicians was opinion maker Huub Bellemakers (GroenLinks party), who works for the Rutgers Foundaton. This Planned Parenthood subsidiary works together with SheDecides promoting worldwide abortion and sex education for preschool children as young as four years old.
Groundless Vocal Attacks
One counter-demonstrator summed up the message of the LGBT activists: "These homophobic men should not be allowed to have a voice in our society. They are fascists."
The reporter from the newspaper Reformatorisch Dagblad remarked: "His statement is one of the mildest of the afternoon. There were slogans everywhere, and often they are too bad to repeat here."
Almost all major media have reported on the protest against Suitsupply. The event dominated the social media of the day. Obviously, the protest hit a raw nerve.
"We Will Not Stop"
Following the protest, Civitas Christiana announced the start of a new campaign called "Family in Danger." Campaign leader Hugo Bos stated its goals: "This protest was just the beginning. We now are going to campaign intensively and persistently for the family. We will not stop until the family is completely protected from the sexual revolution."