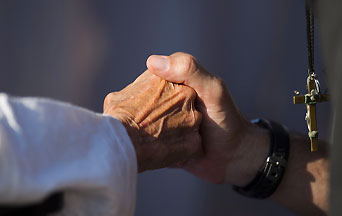 In a Symbolic Detonation, Germany's Church Blessings for Same-Sex Pairs Trigger Open Revolt
On October 31, 1517, Martin Luther, a friar without a vocation, nailed his libel of revolt at the door of the All Saints Church in Wittenberg, Saxony.
Although everything had already been prepared for this revolt, that symbolic gesture triggered from the bosom of the Catholic Church, the apostasy of much of Europe.
By then, universities had been teaching subjectivist philosophies which, by denying reality, denied the truth. Part of the clergy had become worldly and adhered to the new doctrines. In turn, a covetous and decadent nobility was eyeing the Church's assets.
Charles V, a weak Catholic Emperor, and Leo X, a Renaissance Pope, more concerned with politics and pleasures, allowed the revolt to spread.1
A New Symbolic Gesture: Blessing Homosexual "Couples"
Five centuries later, the flames of revolt broke out.
On February 22, the Congregation for the Doctrine of the Faith answered in the negative a question (dubium) on the liceity of blessing same-sex unions. Pope Francis had approved that answer.2
Individual statements from bishops, priest groups, and theologians immediately started to appear, preparing the ground for an open act of defiance against the Faith.
On May 10, 2021, Catholic priests and deacons—with the active or passive support of bishops—blessed same-sex pairs in some 100 churches in Germany, allegedly in some 80 cities. It was an act of open rebellion3 against the Holy See, which had condemned the practice.
Taking a Principled not a Personal Stand
As practicing Catholics, we are filled with compassion and pray for those who struggle against violent temptation to sin, be it toward homosexual sin or otherwise.
We are conscious of the enormous difference between these individuals who struggle with their weaknesses and strive to overcome them and others who transform their sin into a reason for pride, and try to impose their lifestyle on society as a whole, in flagrant opposition to traditional Christian morality and natural law. However, we pray for them too.
According to the expression attributed to Saint Augustine, we "hate the sin but love the sinner." And to love the sinner, as the same Doctor of the Church explains, is to wish for him the best we can possibly desire for ourselves, namely, "that he may love God with a perfect affection." (St. Augustine, Of the Morals of the Catholic Church, No. 49, www.newadvent.org/fathers/1401.htm)
Like Luther's 1517 nailing of his 95 theses to the castle church door in Wittenberg, Saxony, more than just contradicting the note by the Congregation for the Doctrine of the Faith, the illicit mass church blessings for homosexual pairs was a gesture full of symbolism. It was a public denial of the Church's perennial doctrine that any sexual act contrary to the ends of marriage, and specially the act against nature, are very grave sins. Those who find themselves in an affective union that runs counter to the law of God and natural law are in an objective state of sin and revolt against the Creator. As the CDF document stated, it is not licit to bless this sinful way of life.
The CDF Pronouncement Appears to Have Been the Trigger
For some time now, bad Catholic priests everywhere have been blessing same-sex pairs. Most bishops and the Vatican have remained entirely passive, seemingly not taking notice.
The sudden intervention of the Vatican's Congregation for the Doctrine of the Faith makes one wonder if the consultation (dubium) and its February negative answer were not a crafty move to provoke the Holy See to make an official pronouncement on the matter. A pronouncement that would unleash the long-prepared revolt.
In the wake of the May 10 open revolt, there is no news that either Pope Francis or the Congregation for the Doctrine of the Faith have disciplined a single rebel. There is no news that they have spoken out against this public denial of Catholic morality and doctrine, let alone taken adequate measures to stop it. There is no news that any ordinary has disciplined a wayward priest in his diocese who is giving blessings to homosexual pairs.
The silence and lack of disciplinary measures speak volumes. The question that arises is whether the pope's inaction will lead to the consolidation of this heresy as happened with Protestantism in Pope Leo X's time. In other words, homosexual sin becomes normalized and accepted in the Church today as a fait accompli.
That is all the more to be feared since, through words and attitudes, Pope Francis has shown active homosexuals not just tolerance but support, starting in 2013, with the most famous five words of his pontificate: "Who am I to judge?"4 After other endorsing gestures,5 he again defended the legalization of same-sex "civil unions" in a 2020 released interview, having already done so years earlier in Argentina when he was Cardinal-Archbishop of Buenos Aires.6
Today's Homo-Heresy
The doctrinal defense of homosexual sin or same-sex "marriage" is a moral heresy that has been called "homo-heresy."
Polish theologian Fr. Dariusz Oko, professor of theology at the Pontifical Academy of Kraków and the John Paul II University, defines this new heresy as follows: "Homo-heresy is a refusal of the Catholic Church's Magisterium on homosexuality. Homo-heresy proponents do not accept the fact that the homosexual tendency is a personality disorder. They question whether homosexual acts are against natural law and favor priesthood for homosexuals. Homo-heresy is an ecclesiastical version of homosexuality."7
The Church's Magisterium has always taught the truth from Scripture and Tradition that homosexual practice, like all consummated sin of lust, is a grave sin. However, it is not just any mortal sin, but one of four that "cries out to Heaven for vengeance."8 To deny this truth constitutes heresy, which is an "obstinate denial or obstinate doubt after the reception of baptism of some truth which is to be believed by divine and Catholic faith" (Can. 751).
In parallel to the mass Church blessings of same-sex pairs on May 10, a group of theologians published a manifesto attempting to justify their false doctrine.9 Among others, this document was signed by the notorious Sister Jeannine Gramick, a co-founder of New Ways Ministry who was condemned by the Congregation for the Doctrine of the Faith in 1999 for denying that homosexual acts are intrinsically evil.10 Among the co-signatories is the scandalous Msgr. Krzysztof Charamsa. In 2015, he was dismissed from his CDF post after giving an interview, with his homosexual partner, for the Polish documentary film Article 18.11
The line of argument of homo-heresy theologians is the same as that of Modernism: Church dogmas must evolve and accompany the culture of the modern world.12
Resist Strong in the Faith
In these most difficult situations, we must follow Saint Peter's apostolic teaching. He exhorts us to "resist … strong in faith" because "the God of all grace, who has called us into his eternal glory in Christ Jesus, after you have suffered a little, will himself perfect you, and confirm you, and establish you" (1 Pet. 5:9, 10).
Let us not be discouraged by the apocalyptic ordeals in this Church crisis. Our Lord watches over His Church and will not allow Her to be dominated by the infiltrated forces of evil. His very words in the Gospel assure us of that.
We draw courage from the fact that Our Lady herself promised, at Fatima, that her Immaculate Heart will triumph. We trust in her, the Most Pure Virgin, who alone crushes all heresies. She will trample underfoot this new heresy that glorifies the sin for which Sodom and Gomorrah were destroyed by fire.13
Photo Credit:  © Antoine – stock.adobe.com
Footnotes