""""[vc_column_text]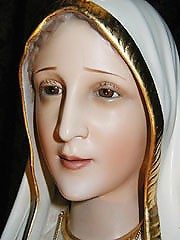 Auxiliary Bishop Salvatore Cordileone of San Diego will lead a one-mile rosary procession from Saint Joseph's Cathedral to Family Planning Associates abortion center on Sunday January 20, accompanied by the miraculous International Pilgrim Virgin statue of Our Lady of Fatima.
The event is planned to commemorate the 35th anniversary of the infamous Roe v. Wade decision that legalized the killing of the nation's pre-born. Attendants will beseech Our Lady to end this evil as soon as possible. Pro-lifers across the country are particularly encouraged by the presence of such an extraordinary statue.
"I am very excited about this procession," said TFP journalist Michael Whitcraft, "we will never be able to stop the killing without Our Lady's intervention and there is no better way to obtain this than through the intercession of She who is represented in this miraculous Fatima statue."
The Pilgrim Virgin is one of three statues carved under the direction of Fatima seer Sister Lucy. While touring New Orleans in 1972, the image wept several times in the presence of many witnesses. Since then she has continually traveled the globe, transmitting graces to people as far away as Japan.
San Diego pro-lifers hope the event will be well attended. In addition to leading the rosary procession and protest, Bishop Cordileone will also offer a meditation, exposition of the Blessed Sacrament and Benediction. The day will finish with a reception in the parish hall.
Everyone is invited to attend. The schedule of events follows:
[/vc_column_text][/vc_column][/vc_row]""""[vc_column_text]
2:15 pm               Gathering at Saint Joseph's Cathedral (1513 Third Ave., San Diego, Calif. 92101)
2:30 pm              Welcoming and orientation
2:35 pm              Exposition of the Blessed Sacrament
2:50 pm              Rosary procession to the abortion clinic
3:25 pm              Protest and prayer vigil at the clinic
3:35 pm              Return rosary procession to Saint Joseph's Cathedral
4:05 pm               Meditation given by Bishop Cordileone followed by Benediction
4:25 pm              Recessional followed by reception in the parish hall
[/vc_column_text][/vc_column][/vc_row]