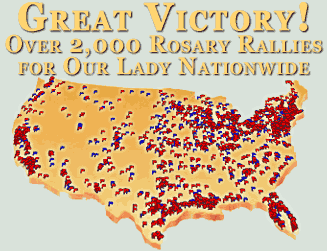 HANOVER, Penn., Oct. 13 – All across the country, Catholics gathered in public squares, busy interceptions, city parks, and in front of town halls or local abortion clinics to take part in more than 2,000 public rosary rallies held on October 13 in honor of the 90th anniversary of the Marian apparitions of Our Lady at Fatima in Portugal.
The American Society for the Defense of Tradition, Family and Property (TFP) and its America Needs Fatima campaign sponsored the event. At the same time, over 2,000 red roses representing every rally organizer were placed at the locale of the apparitions in Fatima.
"These rallies represented mainstream America," said Robert Ritchie, director of America Needs Fatima. " We don't have all the numbers yet but we know that there were well over 2,000 rallies in all fifty states and almost every major city. They were held in many symbolic American places."
Nearly 500 people attended a Public Square Rosary Rally on Fifth Avenue in front of Rockefeller Center. A large statue of Our Lady of Fatima with an escort of TFP members in their ceremonial habit presided over the event. A similar rally was held at Lafayette Park across from the White House.
Public Square Rosary Rallies were held on the steps of state capitol buildings in Maine, Missouri, Texas, and Indiana. Over 300 people gathered at the Capitol in Harrisburg, Penn. and 600 attended a similar event in Sacramento, Calif. A rosary rally was also held on Hollywood Boulevard's Walk of Fame. Seventy-five participants gathered near the Gateway Arch in St. Louis.
Participants nationwide reported great joy in professing their faith in public. Catholics of all ages gathered in a variety of programs which included hymns, speeches and other devotions at their locations. The America Needs Fatima campaign distributed over one thousand large banners calling for passersby to join with rally participants in praying for the conversion of America. It also promised to send a rose to Fatima for everyone who signed up as a rally organizer.
"The Public Square Rosary campaign is a response to Fatima call for conversion, penance, prayer and especially for the recitation of the rosary," Mr. Ritchie concluded. "It is also a response to a culture that is increasingly banishing displays of faith from the public square."