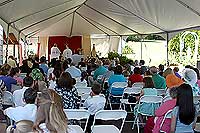 Part of forming a vibrant Fatima movement is providing occasions for like-minded Catholics to meet. Such opportunities can be at a private home, a large auditorium or an outdoor gathering.
As part of this effort to reach out, America Needs Fatima Custodian Jose Walter Ferraz held a festive barbecue on July 10 at his home in Drums, Penn. In attendance were around 150 people.
The event began with the Holy Sacrifice of the Mass reverently celebrated by Fr. Anthony Noviello who also delivered the sermon. Five other priests also came to the barbecue.
The program included many activities such as a choir presentation and meetings. Mr. Byron Whitcraft gave a lecture titled "Walking in the Footsteps of the Blessed Jacinta and Francisco." Mr. Whitcraft expressed the goal of following in the footsteps of these great children of the Fatima apparitions. "Be like Jacinta and Francisco. Pray for the Catholic cause," he stressed. "Pray that God be no longer offended, and that He be glorified. Pray for the triumph of the Immaculate Heart of Mary now as soon as possible."
The meal was splendidly prepared consisting of beef, chicken, sausage and a large number of side dishes which the adults washed down with beer and sangria. The children parched their thirst with lemonade and snow cones.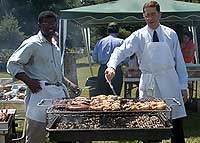 Children played a number of games and attended a special meeting prepared by America Needs Fatima director, Robert Ritchie. His meeting was a concrete analysis of how God represented virtue and vice in the created world. After his meeting, prizes were distributed for those who got the best answers on their quiz. The prizes included statues of Blessed Francisco and Jacinta as well as rosary beads.
"I was very impressed by how quickly everyone got acquainted," Mr. Whitcraft commented. "I think the reason was because the unifying factor was Our Blessed Mother."
Similar events have been held in Kansas, Missouri, California, Louisiana and Connecticut. Anyone interested in America Needs Fatima gatherings, please write or call customer service.