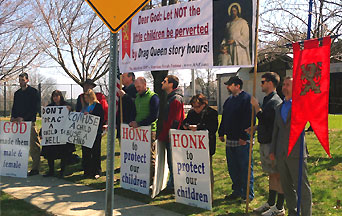 At first glance, Bala-Cynwyd, Pennsylvania hardly looks like a place to host a revolution. It is a suburb of Philadelphia, a quiet and upscale retreat from the stresses of city life. Its Belmont Hills Library is nestled in a park-like setting. Yet, revolutionary forces were very active there on the morning of April 6, 2019. Inside its one-story gray brick library, a "Drag Queen Story Hour" took place.
A Drag Queen Story Hour features a man masquerading as a woman reading pro-LGBT stories to young children. At one of these events in Houston, the public library failed to do a background check and allowed a registered pedophile to read to the children. The American Society for the Defense of Tradition, Family and Property (TFP) has been at the forefront in protesting these politicized events aimed at "grooming" children to accept the LGBT agenda.
Quiet libraries like that at Bala-Cynwyd are now holding these hours under the radar of the local communities. The American TFP organized a peaceful and legal protest at the library as a way of awakening public awareness and offering prayers of reparation.
Indeed, few passersby knew of the event. While many drivers honked to show their support and a handful disgraced themselves with inappropriate gestures, most motorists registered confusion. The confusion was shared by the players and spectators of a baseball game at the diamond next to the library. The banner that said, "Dear God: Let NOT the little children be perverted by Drag Queen Story Hours" was the only notice of the event that many residents saw.
The banner was accompanied by the red TFP standard and numerous poster size signs held by protesters. These signs read, "Honk to protect our children," "Purity is the only answer," "Confuse a child, abuse a child," "Don't 'drag' a child to Hell," and "God made them male and female."
The only other public notice was one that appeared on the library's web site. "Drag Queen Story Time with Balena Canto – 11:00 AM – 12:00 PM – Join us for a fun-filled program about diversity, inclusiveness and self-acceptance. Baleno Canto will read a few stories, sing a few songs (with an amazing operatic voice), and lead a spring-time craft. All ages welcome. Registration is required."
The fact that registration was required showed this was not an ordinary event. Belmont Hills Library is part of a six-library network that makes up the Lower Marion Library System. Over the following week, the network's calendar showed nine other story times at the network's libraries. There were also scavenger hunts, a pre-school book club, and a program called "Magnet Madness." None of them required registration.
The librarians who promote these performances want to pretend that they are just a regular part of the life of the community as part of their calendars. The effort has the full support of the American Library Association. Fearing reaction, however, the programs are not advertised widely. The idea is to spread slowly and try to make such performance appear "normal."
Nationwide protests have succeeded in canceling many of these Story Hours. Local library boards are feeling the pressure of indignant parents who do not want their libraries to host a revolution.
Calls, petitions and public acts of reparation can prevent this evil from taking root in communities.
When first mentioning such an event to friends and fellow parishioners, expect them to be surprised. The idea of a Drag Queen Story Hour appears absurd. The best way to show them that this is real is to show them the web page of the national Drag Queen Story Hour organization. View it with caution. The disturbing pictures there are more than enough to convince them something needs to be done.
This Video Is NOT Intended for Children