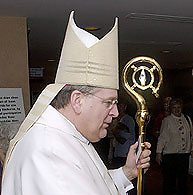 A common objection protest organizers face states that the clergy unanimously oppose theater protests against The Da Vinci Code. Some assert that all priests, bishops and cardinals believe that any public action will simply give the film more publicity. They strive to convince protesters that by organizing or attending theater demonstrations they are opposing Church hierarchy.1
While the assertion that every member of the clergy supports protests would be a gross exaggeration, the truth is that many church officials have come out in support of peaceful theater prayer vigils against The Da Vinci Code. Until now, their voices have been generally unheard.2
Archbishop Amato and Cardinal Arinze
Perhaps the highest-ranking official to openly support theater protests is Archbishop Angelo Amato. He current serves as the second ranking prelate in the Congregation for the Doctrine of Faith, the most important and prestigious of all Vatican dicasteries.3
According to Reuters news service, Archbishop Amato clearly suggested that the faithful protest The Da Vinci Code movie at theaters around the world. He used theater protests held in 1988 against Martin Scorcese's Last Temptation of Christ as a model of what the faithful should do.1
Similarly, Francis Cardinal Arinze stated: "Christians must not just sit back and say it is enough for us to forgive and forget… Sometimes it is our duty to do something practical." The cardinal also observed that those who "blaspheme Jesus Christ and get away with it are exploiting the Christian readiness to forgive and to love even those who insult us."2
While Cardinal Arinze's statements are not a direct endorsement of theater protests, they do favor taking a public stand against The Da Vinci Code. His words are also a splendid refutation of the false notion that protests will give publicity to the film.
American Bishops Speak

Many American bishops have also shown support for theater protests. A sampling of the letters the American TFP has received is transcribed below.
Luis Cardinal Aponte, Archbishop Emeritus of San Juan, Puerto Rico wrote:
As a Puerto Rican who has been a priest for over 55 years; Bishop 45; Archbishop 41; Cardinal 33, from the bottom of my heart I reject all the errors and blasphemies contained in the despicable novel, The Da Vinci Code which unfortunately will be presented on a movie version very soon…Let us join, at least spiritually, if we cannot do it physically to the prayers and vigils that are being offered asking Our Lord to strengthen our faith…
Most Reverend Robert M. Moskal, Bishop of St. Josaphat in Parma stated: "As the movie The Da Vinci Code opens in theaters, I wish to offer my support of your prayer vigils objecting to such a blasphemous and abominable film distorting the life of Our Savior."
Most Reverend John C. Nienstedt, Bishop of New Ulm, Minnesota declared: "I offer you and the members of the American TFP my support in protesting the movie version of The Da Vinci Code."
Most Reverend Raymond L. Burke, Archbishop of St. Louis, expressed his gratitude for protest efforts: "I was very pleased to receive your letter of April 5th last in which you invited me to take part in one of the protests organized by the America Needs Fatima Protest Campaign against 'The Da Vinci Code.'" He finished this letter offering his prayers and pastoral blessing for Da Vinci Code protests and all other TFP activities:
Be assured of my prayers for the work of the American Society for the Defense of Tradition, Family and Property and its America Needs Fatima Campaign, as it seeks to support the Catholic Church and uphold its traditional beliefs. I know that there will be many people involved in this campaign and I ask you to extend to them my prayerful best wishes.
In a similar vein, Most Reverend Raymond J. Peña, Bishop of Brownsville, Texas wrote: "I am encouraged to know that people of good will such as the members of the Society [The American TFP] will exercise their legal right to peacefully protest a film that serves no objective other than to ridicule Catholic doctrine and incite the masses to error." Bishop Peña also closed his letter, offering his blessing:
It is my fervent hope that, through the prayers of the Immaculate Virgin Mary and the witness of Christ's disciples, the wavering faith of many moviegoers will be strengthened against the falsehoods depicted in this film… Please be assured of my prayerful support for the success of this protest in defense of the faith.
The list continues with Most Reverend Michael J. Sheridan, Bishop of Colorado Springs. He stated:
I am very pleased to know that so many faithful people will be giving peaceful and prayerful demonstration of their faith as this film opens in theaters around the country. May the Lord bless you for your courageous stance; and know that I will hold you in my prayers in a very special way.
Archbishop Wilton D. Gregory of Atlanta wrote: " I send my support and my encouragement to all those who will be praying and protesting during these upcoming days, against the lies presented in The Da Vinci Code ."
Finally, Most Reverend Oscar H. Lipscomb, Archbishop of Mobile wrote:
I commend your efforts for a grassroots peaceful [action] but [one] distinctly assertive of the truth to the contrary of this presentation in theaters where it might be shown shortly. If the presence of such public witness causes at least one individual to have second thoughts about the ideological propaganda to which he or she is being subject, your effort will have been well worthwhile. May God bless and prosper you in this enterprise.
Priests Supporting Protests

Many priests too have given substantial support to theater protests. When one lady told her priest that she was afraid to protest publicly and planned instead to pray at the theater with her hand and rosary in her pocket, he persuaded her to organize a full fledged public demonstration. He told her that anything less would be a copout.
Dozens of priests have allowed protest invitations to be passed out with their weekly bulletin and at least three priests are organizing protests, themselves!
Other priests have expressed a desire to see Catholics stand up publicly to defend the Faith against The Da Vinci Code. This is what Fr. Glenn Sudano, superior of the Franciscan Friars of the Renewal had to say:
…we believers are being presented with an opportunity to face the lions for our Catholic Faith. If you can call yourself a "practicing Catholic," may I respectfully suggest that now is the time to stop practicing and start performing. The Church already has far too few players and far too many spectators. Why? Because it's safer to watch from the sidelines…If you are afraid of bumps and bruises, then stay safely in the stands; but for the brave, let's hop in the ring! Let's take the plunge!3
I Will Confess Him Before My Father in Heaven
Regardless of what individual clergymen may have said, it is clear that a number of clergy supports protests. Keeping this in mind will prepare protest organizers and attendees to fearlessly face naysayers who, unwilling to publicly stand up and defend Our Lord when He is mocked and blasphemed, hope to dissuade others from doing so as well.
Our Lord said: "Every one therefore that shall confess me before men, I will also confess him before my Father who is in heaven. But he that shall deny me before men, I will also deny him before my Father who is in heaven. " (Matt. 10:32-33)
Hopefully, faithful Catholics will take full advantage of Our Lord's offer and, confessing Him before men, receive His invaluable support before the throne of the Heavenly Father.
Now more than ever, they have the opportunity to do so. Not only do they have an issue, a receptive public and detailed instructions on how to protest, but also the support of good shepherds and nothing to hold them back.
___________________
Footnotes