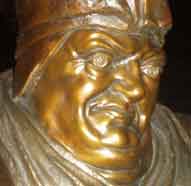 At Washburn University in Topeka, Kans., the Campus "Beautification" Committee recently placed a blasphemous sculpture outside the student union. The sculpture, titled "Holier than Thou," depicts the bust of a bishop with a fat, cruel and ugly face. The miter he wears resembles a phallic symbol. In a caption beneath, sculptor Jerry Boyle chides the Catholic Church for Her "fear-inducing" sacrament of Confession.
Area Catholics immediately reacted, asking that the sculpture be removed from campus and even presented their case at a meeting of the Board of Regents. However, when all was said and done, the board voted not to remove it, with two of the nine board members dissenting.
Undaunted, area Catholics have continued their efforts to have the sculpture removed. Local TFP supporter, Francis Slobodnik alerted the TFP and the gears of its anti-blasphemy network immediately began to turn. A rally of reparation is scheduled for 3:00 p.m. December 7 at Washburn University.
In the caption below the sculpture, "artist" Jerry Boyle chides the Catholic Church for Her "fear-inducing" sacrament of Confession.
"As Catholics, we must stand together on this issue," said Mr. Slobodnik. "Jerry Boyle misrepresents Confession as fear-inducing. The opposite is true, by sinning we call down God's wrath upon us. This is what we should fear. Confession is the greatest tool we have to restore our relationship with God and mitigate the punishment we deserve. Thus, Confession dispels fear. What does Jerry Boyle fear? Maybe he should make a visit to the confessional."
Kansas City's Archbishop James Keleher also called for the sculpture's removal. In an open letter to Washburn president Jerry Farley he stated: "I am extremely disappointed at this present situation that is an affront to me, to many Catholics and to others who value decency and respect. I am particularly concerned for your many Catholic students who see their faith ridiculed and they themselves embarrassed."
Those who live in the Topeka, Kans. area are invited to attend the Rally of Reparation at Washburn University.
As Mr. Slobodnik stated, Catholics must stand together. Join this campaign in defense of the Catholic Church; Our Lady will repay your efforts. With her help, we truly have nothing to fear.