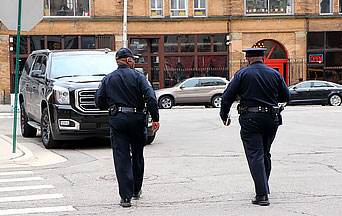 Law enforcement is not the problem, it's the solution!
Imagine a world without law enforcement. It would be hell on earth.
Americans sense something of this hell in the lawless aftermath of the death of George Floyd. Violent rioters bent on looting, destroying and terrorizing, quickly hijacked legal and peaceful protests. When the police react to quell the danger, the left, trumpeted by the media, called for defunding the police. Many liberal mayors and governors echoed that call. The hellish situation continues.
For example, Seattle, Washington's mayor Jenny Durkan said that she would allow rioters to set up and govern the Capitol Hill Autonomous Zone (CHAZ) in her city without a police presence. This is not a serious reaction to the violence and destruction caused by the rioters. While CHAZ was finally dismantled, Durkan is responsible for letting that chaos run rampant causing untold damage to the economy, community and private property.
Rioters have caused an estimated $5 billion in destruction nationwide. The only logical reaction is not to defund but to increase spending on the police and restore order in society.
However, the left clamors for defunding or even eliminating the police and divert existing budgets into social services programs in an effort to quell the mob's demands for "social justice."
Actions From Liberal City Councils and Politicians
Nationwide city councils are slashing budgets.1
The City Council of Los Angeles, California voted to reduce its police department's budget by $150 million and redirect the funds to "community-building projects."
The Minneapolis City Council unanimously voted to "dismantle" its police department, though it still does not know how or if it can be done. The law requires a referendum to confirm the council vote.
New York City Mayor Bill De Blasio agreed in principle to slash his city's police department's budget by $1 billion and freeze the hiring of 1,160 desperately needed new officers needed to deal with skyrocketing crime.
The Salt Lake City Council in Utah cut its police department's budget by $5.3 million, of which $2.5 million will be redirected to "social worker programs."
Baltimore, Maryland approved a $22.4 million cut from its police budget in a city ravaged by crime. City Council President Brandon Scott said, "This is a glimpse of what's to come." This money will be used to open recreation centers on Sundays and offer "forgivable loans" to businesses owned by blacks.
In Portland, Oregon, the city council took $16 million from its police department. The move eliminated 84 job descriptions, and defunded the gun violence reduction team, the school resource officers program and the transit division program. The money will be redirected to social services programs.
Last but not least, in Seattle, Washington, the city council eliminated $76 million from the 2021 budget. This is not what Seattle needs at the moment when it has become a hotspot for rioting and violence.
A Formula for Chaos
In all these cases, defunding law enforcement is not leadership or governance; it is the formula for chaos.
No one is explaining how these measures will make cities any safer and restore order. Pouring money from law enforcement into social programs is a liberal "feel good" measure and a key item on the radical wish list.
Many studies confirm that increasing police presence reduces crime. Sadly, leftists blame police for all social woes. While there are bad apples in police departments, all police are not bad and police departments should not be eliminated.
A Problem With the Rule of Law
The left's problem is not with law enforcement, but the rule of law. Radical groups like Antifa and Black Lives Matter make no secret of their desire to destabilize law enforcement. They also adopt a Marxist class struggle narrative organized along racial lines. They clamor for the defunding or elimination of the police and the suppression of the prison system. Without enforcement of the law or punishment for breaking it, there is no rule of law or judicial system.
Quotes from BLM militants leave no doubt as to their anarchical intentions. BLM activist Hank Newsome, for example declared, "If this country doesn't give us what we want, then we will burn down this system and replace it. All right? And I could be speaking figuratively. I could be speaking literally. It's a matter of interpretation… I just want black liberation and black sovereignty, by any means necessary."2
The BLM Chicago Twitter account urges its militants: "Stay in the streets! The system is throwing every diversionary and de-mobilizing tactic at us. We are fighting to end policing and prisons as a system, which necessitates fighting white supremacist capitalist heteropatriarchal imperialism."3
In an interview with Newsweek, BLM co-founder Patrisse Cullors claims "The freedom of mostly white affluent people is predicated on the un-freedom of black people. So, law enforcement is not actually used to keep black people safe. They're used to patrol, occupy, harass, abuse, often hunt and mostly, what we've seen is kill our communities."4
No Police, No Peace
The effort to defund the police is masquerading as civil rights activism. The anarchical demands made by the rioters do not represent the majority of the black community or any minorities as many polls demonstrate. The unrest is being used to carry out a revolution against the American order. One way to make this change is to take away the legal framework that safeguards order, establishes authority and prevents crime.
If Antifa, BLM and other anarchists are successful, the United States will be plunged into disorder. The Marxist ideas that have wrought so much damage to nations all over the world will visit America. Standing between the present order and the hellish nightmare of socialist rule is the thin blue line of police officers who represent the rule of law.
When rioters cry to defund the police, what they really want is to destroy the rule of law. If their demands are met, there will be no police and no peace.
Footnotes