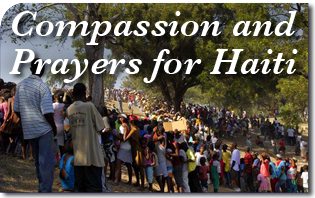 As we witness the unfolding of events in Haiti, we cannot help but be moved to have compassion on and pray for the victims of the recent earthquake in the capital of Port-Au-Prince. The country's infrastructure is all but destroyed. Food, water, electricity and housing are scarce and chaos reigns in some areas. Even churches cannot give a proper burial to the deceased as they too have been all but leveled with little to no resources left to give aid to the faithful. This is certainly a test of faith of those there as well as a call for the generosity of others to help in this time of dire need. We ask all of our readers to continue their prayers and efforts to help the victims in Haiti.
At this time of hardship for Haiti, we call to mind one of that nation's greatest men, Blessed Pierre Toussaint, who knew well how to overcome suffering and adversity.
He was born a slave in Haiti in 1766 and moved to New York City with his master's family in 1787. Not long after, his master died and the family was destitute. Pierre supported the impoverished household for twenty years with his earnings as a hairdresser while still serving them. He was freed in 1807 and he and his wife were excellent examples of Catholic charity to all those who suffered and were in need. This should inspire all of us to pray to him to help those suffering in Haiti to bring them closer to Our Lady, strengthen their faith and give them fortitude in this time of trial.