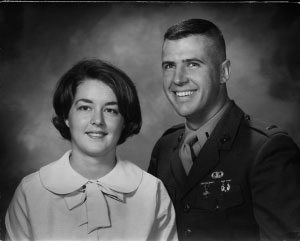 On September 25, 2009, a small group of family and friends said their final farewell to Moline Blaylock Ripley. She died at her home in Annapolis, Md., on Saturday, September 12, 2009 at the age of 68.
Moline was born in Bluefield, W.Va., on Pearl Harbor day, December 7, 1941, to Arnold Vincent and Edna Pais Blaylock. Her family eventually moved to Radford, Va. where she attended Radford High School and later went on to graduate from Madison College. Upon graduation, Moline Blaylock married John Walter Ripley a Marine who went on to earn legendary status during two tours of duty in Vietnam.
Moline's burial was actually the same day that the first biography of her husband was going to print. Although I had only met Moline on one occasion, I somehow felt I knew her through the writing of An American Knight, The Life of Colonel John W. Ripley USMC.
"Female Version of John Ripley"
There were two distinct sides of Moline Ripley. She was truly a strong woman who lived up to the distinction some bestowed upon her of being the "female version of John Ripley." During the frequent deployments of her husband, she ran the house. This entailed taking care of difficult problems that arose as well as entertaining house guests. Many people described her as a "gracious hostess and the consummate Southern lady."
"Her flexibility enabled her to throw a tea party," I pointed out in An American Knight, "as skillfully as she could do house repairs, if the need arose."
Moline's strength can be seen in a story related to me by Ann Devine, whose mother Patricia was Col. Ripley's older sister. As a battlefield commander, John Ripley experienced the horrors of war and dealt with the stress that often accompanies such a life. This entailed bad dreams which would wake him in the middle of the night. It was for this reason that Moline would meet her husband on his return trips from deployments and stay with him some days during his process of adjusting back to normal civilian life.
In the last years of her life, Moline would have her own personal struggles when she noticed, as did other family members, that her memory was fading and suspected the cause. She showed rare courage in the face of what the problem might be and called Miss Devine, whose mother, Patricia, died from complications due to Alzheimer's disease. Moline was not seeking pity when she called Ann. Rather she wanted to know not only how the sickness affects the patient, but more importantly what impact it would have on the family members who would have to care for her. Mrs. Ripley was concerned about the burden they would have to endure and made the call because she knew Ann would tell her the painful truth. Stephen Ripley, the oldest of the children, described how his mother faced Alzheimer's disease with humor and dignity which was likely meant by Moline to ease their burden.
Stalked Beautiful Things Like a Big Game Hunter
The other side of Moline was the compassionate side that worked hard to alleviate the suffering of those in need. Shortly after she was married, her husband was sent away for numerous training programs and deployments. While he was away, Moline acquired a position with the local school teaching first graders. The children under her care were from poor white sharecropper families. Some were so destitute, they lived in homes that were former tobacco barns with dirt floors. Seeing their unfortunate condition, Moline took it upon herself to prepare food baskets for the poorer families which she delivered during Christmas.
Being the wife of an officer in the Marine Corps was not easy. Although the family moved a lot during the war years, Stephen Ripley made a point of saying that "wherever mom was, that was home."
Moline shared not only her husband's toughness but also his love of elevated things. During his funeral eulogy, Stephen depicted his mother as a woman who possessed a strong attraction for beauty and a person who possessed "refinement, determination and strength." He illustrated this in an amusing way. Moline stalked antiques and beautiful things, he said, "like a big game hunter." On one occasion he told how she spotted a truck full of leaves passing her on the highway with an oriental rug carelessly used as a tarp, thrown on top. She engaged in a high speed chase, stopped the truck and closed the deal to buy the carpet on the sidewalk.
Her appreciation for such things is most likely the reason she chose to become an interior decorator. One of the more noteworthy houses she helped decorate was that of the celebrated home of the Marine Corps Commandant located at the historic barracks at 8th and I streets in Washington DC.
What shown through most in Moline was this latter aspect of being a person of refinement and delicacy of soul. I had always seen her husband as a true American Knight, as I learn more about Moline, I am consoled to find in her the ideal counterpart, a true American Lady.
Marine Corps Body Bearers for Moline Ripley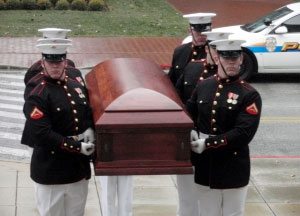 What impressed me most about the funeral of Moline Blaylock Ripley, were the Marine Corps body bearers assigned to carry her coffin. To have the honor of being in this group, I was told, they must be able to carry a coffin at chest level for two miles without stopping. That means each Marine is carrying about 100 pounds. The other requirement is that they be at least six-feet-tall. When I approached them, I felt like I had wandered into a land of giants; gallant men dressed in noble uniforms. Three of them had also carried the coffin of Colonel John Ripley to its final resting place and now they would take his wife to be placed by his side. They were men –I described in an article about Col. Ripley's funeral– who looked like they were carved out of granite.
I watched these burly Marines, gently carry the coffin up the steps and could not help contrast their militant manners and fierce determination in their eyes, with the mental image of Moline, a gracious Southern lady. They were not carrying the coffin of a warrior this time, but that of his fair lady. As they entered the Church I stepped off to the side and gazed on in awed silence. The scene was an image of the chivalrous spirit, so lacking in the world today, of the respectful way men should treat women. I imagined someone trying to approach Moline's coffin with disrespect and took delight in what I knew would be the response of these gigantic men.
It was noteworthy how they did not carry the heavy coffin in a begrudging way but with pride and loyalty. Moline was as much an American Lady as her husband was a an American Knight. The Marine Corps body bearers were making sure she reached her final resting place with dignity. One would expect nothing less from the Marine Corps.
Vaunted on High
Upon arriving at the burial sight the body bearers carried the coffin to its final resting place. Before laying it down, however, they raised the coffin of Moline on high as they had done for her husband before Father McGeory gave his final blessings for the deceased.
It could not have been a more appropriate conclusion to this fine lady's funeral, considering the battle waged by her husband against sending women into combat. The reason Col. Ripley so strongly opposed such a ludicrous proposition was because of his respect, not his disdain for women.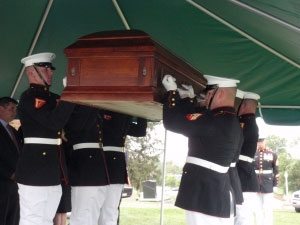 "The mother of the American family," his son Thomas quoted him as saying, "is a person that should be vaunted on high and should never have to deal with the nasty job of doing the ditch digging of our nation, fighting wars, protecting our country."
On this day Moline Blaylock Ripley, a Southern lady, and devoted wife of "An American Knight" received the treatment Col. Ripley would have wanted her to have as six Marine body bearers raised her up and "vaunted her on high."
* * *
Our sincere condolences to Stephen, Mary, Thomas and John Ripley.
May her soul and all the souls of the faithful departed through the mercy of God rest in Peace. Amen